As adults, we may tend to think of how COVID-19 has impacted our work and other routines. We should also consider, however, how this pandemic has affected kids. COVID-19 has made it more difficult for kids to play in public settings, and that has caused many kids to get less physical activity and also experience increased feelings of isolation.
As public spaces and businesses begin to open back up, we can help kids resume a healthier level of physical activity and enjoy playing in public facilities once again. If you are a business owner with play equipment on-site or are considering adding play equipment, we're here to help you navigate how to keep kids active and engaged in a safe way.
With the right equipment and safety measures in place, you can create a play area that helps kids enjoy a sense of normalcy again, provides a place for families to get outside of their house, and helps you get back to business.
Table of Contents
Why Do Kids Need to Be Active?
Physical activity is an important part of a healthy childhood. Active play has physical health benefits and can also help kids develop essential social skills and exercise their imaginations. According to the U.S. Department of Health and Human Services, preschool-aged kids should be physically active throughout the day since this aids in their growth and development. Kids who are 6 years old and up should get at least one hour of moderate-to-vigorous physical activity daily.
Playgrounds and other play equipment provide a great place for young kids to engage in physically active play. Play areas in businesses give them a place to expend their energy and get a break from sticking close to their parents or sitting still at a restaurant table — tasks that can be trying for energetic young kids.
The current health issues have complicated many normal aspects of our lives, including children's play. However, staying active is still a crucial objective for kids, and playgrounds can promote active play in order to learn, grow and stay healthy.
What Are the Restrictions on Children's Play Areas?
Seeing parks and playgrounds open back up has prompted some to ask, are playgrounds safe now? As experts have learned more about the SARS-CoV-2 virus, they have developed guidelines that can help people prevent the virus's spread, even in play areas.
The Centers for Disease Control and Prevention (CDC) points out that staying active by playing at parks or other recreational facilities is a great way to stay healthy and reduce stress amid the coronavirus pandemic. However, there are some new guidelines to be aware of. It is ultimately up to parents and their kids to follow these guidelines, but business owners with playgrounds can help by posting signage reminding families of CDC recommendations for play areas.
At this time, some crucial restrictions for children's play areas include:
Stay home if sick: First, if parents notice their kids exhibiting any signs of illness, they should stay at home and avoid public play spaces.
Maintain physical distance: Adolescents should avoid playing with other kids who aren't members of their own household. The CDC specifies that it's safest to remain 6 feet apart to avoid passing airborne germs. For smaller playgrounds, this may mean that only a few kids can safely use the equipment at a time.
Clean hands: Even when people physically distance themselves from one another, they can still pass germs by touching surfaces that others have touched. This issue can be a greater concern with kids since they are likely to touch their faces. That is why it's vital for them to wash their hands or use hand sanitizer.
Wear a face covering: If it's feasible, kids should also wear cloth face coverings, especially if they aren't able to maintain 6 feet of distance from others. Exceptions to this rule are babies under the age of two or any kids who have breathing problems.
Why Businesses Shouldn't Wait to Add Play Equipment
If you've considered adding a playground to your business to appeal to families, you may be shying away from those plans during the COVID-19 pandemic. It's understandable to be concerned about introducing any possible health risks to your business. The good news is that play equipment can provide a safe and enjoyable source of fun for kids right now and into the future – while appealing to families looking for activities for their kids.
As long as you follow the guidelines we discuss in the following sections, you can create a play space that attracts families to your business and allows kids to enjoy a sense of normalcy and healthy play. This is essential during a time that may otherwise feel strange and restrictive to kids.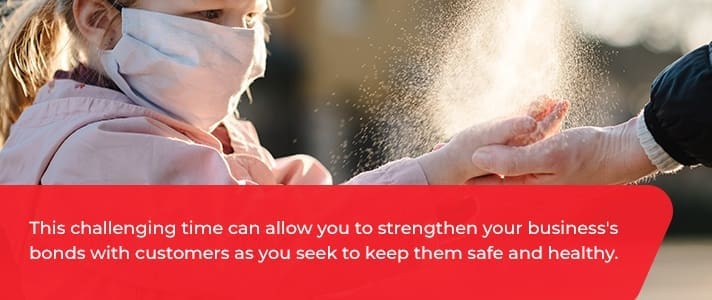 Ways to Promote Health and Safety in Play Spaces
Fortunately, safety measures such as physical distancing, cleaning hands and wearing face coverings can help kids get back to playing in public play areas once things begin to open up more. Businesses with play equipment on-site can also do their part to help kids play safely. If you already have play equipment at your business, you can take some special steps to make your playground a safer place for families during this time.
Taking these extra steps will serve a practical purpose of keeping people safer. It will also demonstrate your business's concern for your customers and your commitment to their health and well-being. This challenging time can allow you to strengthen your business's bonds with customers as you seek to keep them safe and healthy. Here are a few actionable ways to make COVID-19 safety a bigger part of your play space:
1. Determine Whether You Should Open Your Play Area
First, you have to determine whether it makes sense to open or close your play area. Even if your shopping center, restaurant, museum or other business is open to the public, you may still need to consider temporarily closing your recreational space. The key is to be aware of all current regulations and guidelines from your federal, state and local governments.
If having your playground open would automatically violate local regulations, then you may have to let people know it's closed temporarily. Be sure to inform them that you're looking forward to opening the play area again as soon as it is appropriate to do so. Make it clear whether your playground is open or not, so families know whether they can take advantage of it.
2. Install Informative Signage
Signage is essential for letting your customers know whether your playground is open and, if so, how they can appropriately enjoy the space. Here are some examples of directives you may want to include in your signage:
Requirement or recommendation to wear masks: If your state or city requires people to wear masks in public, you should remind customers of this requirement. However, if your playground is designed for young kids, you will also want to mention if masks are or are not required for certain ages. You can also recommend or require face coverings even if your government has not made them mandatory.
Recommendation for physical distancing: Remind families that it is safest to maintain a 6-feet distance from other kids you do not live with when playing on the playground. If this limits the number of people your play area can safely accommodate, you may want to set a maximum capacity number and include that on your signage. That way, parents can take note of whether there is room for their child to play.
Reminder to clean hands: It's always wise to encourage kids to clean their hands, either by washing them or using hand sanitizer before and after playing on the playground. This action will go a long way toward reducing the number of germs left on surfaces and that kids pick up on their hands.
Reassurance about precautions: If you're taking special precautions with your play equipment, such as more intense and frequent cleaning routines, you may want to create signs that inform the public about these extra measures. Reassure them that your playground equipment is safe and clean and that you care about their well-being.
3. Add Hand Sanitizing Stations
You can keep your playground equipment clean and prevent the spread of pathogens and other germs by reminding people to clean their hands. You can also make this action easier to do by installing a hand sanitizing station or two next to your play area. This setup is especially important if there are no restrooms nearby where people can wash their hands.
Make sure you purchase hand sanitizer containing at least 60% alcohol per CDC recommendations. You may want to consider purchasing hand sanitizer stations with motion detection technology, so people can clean their hands without ever having to touch a hand sanitizer bottle or press a button.
4. Clean Equipment Often
It's always crucial to clean playground equipment, but that task is now more important than ever. Check your owner's manual to see how you should properly clean your play equipment without damaging it. For most equipment made of coated metal or plastic, you can use a mild detergent and damp cloth to wipe down surfaces.
You should also sanitize or disinfect surfaces regularly to remove pathogens. This is a critical step since a playground that appears clean isn't necessarily safe. You have to kill those invisible germs that kids can leave through sneezing, coughing or touching surfaces. Don't hesitate to quickly sanitize your equipment when it's not in use, even if it means kids have to wait a minute to start playing.
5. Consider Upgrading Equipment
Not all play equipment is created equal regarding safety and cleanliness, so you may find your current play equipment falls short of your needs. Some equipment is easier to clean than others, which can be incredibly helpful during a pandemic like this. The equipment also needs to be durable enough to hold up to extensive, regular cleaning.
Certain play equipment even features antimicrobial properties, meaning the surface inhibits microorganisms from growing. This characteristic complements your existing hygiene practices by making it less likely for pathogens to gather and pose the risk of making people sick. If you want equipment that is easier to clean, more durable or antimicrobial, now may be the perfect time to upgrade.
Designing Playgrounds With New Guidelines in Mind
As an article in Architectural Digest points out, COVID-19 has enlightened our perspective on playground design and reminded us of some important aspects of children's play. Namely, it has reinforced the idea of "play everywhere" design. This design philosophy capitalizes on kids' desire to play wherever they go by integrating play environments into public spaces, not just parks. These locations include businesses like banks, restaurants or shopping malls. The concept is to give kids access to more play areas.
That's great news for businesses that have been considering adding a play space. As the world begins to open back up and return to normal — albeit a new normal — having clean and safe indoor and outdoor play areas will be a great way to bring families back to your business.
So, what does COVID playground design look like? Explore some steps you can take to design your playground in a way that promotes healthy play:
1. Create Outdoor Play Spaces
If you have space outside to install a playground, you may want to consider choosing this area. Ideally, it would be great to include play equipment both inside and outside, but during this time, it may be a better idea to promote your outdoor play areas since some families will feel safer letting their kids play outdoors. For outdoor playgrounds, make sure you choose equipment that is graded for outside use and will hold up to the elements.
Another option to consider is an adventure playground – including belayed or non-belayed ropes courses and challenge courses. These types of activities help families get outside, and are easier to adapt for social distancing measures. These are perfect for resorts and hotels – and anywhere you want to add an attraction to draw people to your business.
2. Strategically Position Indoor Play Areas
For indoor recreational areas, you should choose a spot inside your business that affords plenty of surrounding clearance. For instance, in a restaurant, you wouldn't want the play area to be positioned fewer than 6 feet from counters where customers order, benches where customers wait or tables where they eat. Select equipment that can be easily cleaned and also customizable to give plenty of space for social distancing – such as our soft sculpted foam options.
While you provide adequate distance, you should also ensure there are good sightlines from play areas to wherever parents or caregivers may be seated. This setup presents a way for parents to keep an eye on their kids while they are playing. You may even want to install a bench or some other type of seating close to the play space.
3. Promote Social Distancing With Layout
Social or physical distancing can help kids limit their exposure to illnesses that other people from outside their household could be carrying. In a very small play area, it may be unrealistic for kids to stay 6 feet or more apart. By designing a larger, more spread-out playground, you can make it possible for everyone to physically distance themselves. This layout can even encourage them to do so unconsciously.
To do this, create a design that positions different pieces of play equipment at least 6 feet apart. The result will be a larger area with plenty of room for kids to play without coming into close contact. Another option is to create two or more small recreational areas in different places of your facility so adolescents can go play in the other location if one is already occupied.
4. Choose Easy-to-Clean Equipment
Because your staff will have to clean the play equipment frequently to keep it sanitary, you will do yourself a major favor by choosing easy-to-clean equipment. All play equipment can be cleaned to some degree, but you should look for providers who specifically state their offerings are specially designed for easy cleaning.
This is important now in light of COVID-19, but it will continue being essential after the threat passes. Easy-to-clean equipment will always be beneficial since cleaning playgrounds regularly is always best practice.
Soft Play equipment is durable and easy to clean. In addition, our sister company Soft Play features soft play equipment with antimicrobial material. This protective coating doesn't mean you won't have to clean your playground equipment. However, it does mean that germs will have a much harder time thriving on your playground's surfaces.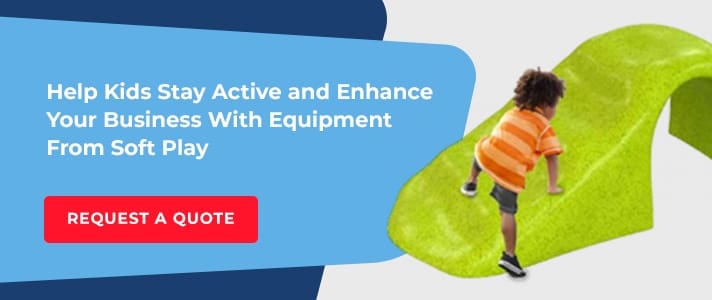 Help Kids Stay Active and Enhance Your Business With Equipment From Soft Play
As the global leader in innovative playground equipment, Soft Play is a partner you can trust to provide your business with the best in playground equipment. Our play products are designed to be safe, durable and enjoyable for kids so they can have fun while playing and families can enjoy visiting your business. Extensive experience and innovative product designs make Soft Play stand out as the trusted play equipment provider you need.
You'll find many options on our website for various types of play equipment to suit both indoor and outdoor settings and a range of age groups. You can also request a quote or contact us for a design consultation. We are committed to helping get kids back to play safely, and in helping businesses as they find new and innovative ways to move forward.