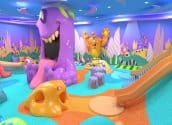 Bringing play area concepts to life is a collaborative effort at Soft Play. Our team of designers works closely with all of our clients, taking their vision and infusing our creative expertise to create immersive play experiences. Our clients' desire and dedication to creating a unique experience for their patrons should be celebrated. We aim to do just that.
Are you considering a new play area? Challenge our team to bring your vision to life.
Do you have a community submission or architectural concept? Our team will ensure that your play area concept is created in exacting detail while complying with all relevant ASTM and ADA safety standards.
Or perhaps you are looking for a whimsical adventure? We'll design a space filled with fire breathing dragons and heroic knights.
Looking for a reflection of the community? Tell us about the regional heritage and we'll create play area concept representations of the local industries, wildlife, environment or history.
Sculpting Imagination into Reality
Below are a few examples of how we have turned custom play area concepts into reality. Contact us to learn more.