Building an indoor playscape is an exciting venture. As you begin looking at innovative equipment designs, you're likely also starting to strategize for your business. There are lots of ways to make an indoor play area profitable. For an existing business, adding an indoor playground can attract new customers. As a family entertainment center, you can provide some much-needed recreation and fun to local communities.
Read the full guide or skip to a specific section:
Indoor Playground Business Profit and Return
Children's fitness center franchises collectively earned $336 million in total revenue in 2019. With a total of 1,123 businesses in the U.S., the average franchise earned a gross $299,198.58.
The child services industry generally sees good returns on investment. Over 30% of families have an annual income between $75,000 and $150,000. Families with disposable income spend more money on entertainment. Of the total cash families spend on entertainment, 28% went toward experiences in 2015, and that percentage has continued its upward trend.
The profit margins and returns of an indoor playground vary by location, business model and overhead costs. Some businesses use a family entertainment center as their primary source of revenue. For other companies, such as malls and retail outlets, an indoor playground is an attraction that brings families in the door. In these cases, the playground brings more traffic and revenue to the business.
Overhead costs are also an important factor in indoor playground profits and success. If you plan on renting a space, the lease you sign will have a big impact on profit. A large building will cost more to rent, and the increased space allows you to build more attractions and house more families at once. With increased space, you can also rent out rooms for birthday parties or fitness classes.
Commercial rent costs more in areas with higher visibility. Families usually find indoor playgrounds via word of mouth and internet research. Since visitors usually plan ahead of time, visibility isn't as important. So, you can take advantage of lower rent costs at a more remote location.
As you begin planning your indoor playground, research your local market to help determine business costs in your area.
Ways to Make Your Play Area More Profitable
When it comes to new businesses, hard work and creativity are an unbeatable combination. The indoor playground business is a unique industry, with many opportunities to increase profit margins. Here are some ways to make your business a success:
1. Find Ways to Lower "Dead Time"
For a family entertainment center, your hours might be closely tied to school schedules. Weekends and breaks are your most profitable times of the year. But as a business owner, you're paying rent and other overhead costs year-round. So, finding ways to open your facility and get people in the door during off-peak times can make your business more profitable. Here are a few ideas you can try:
Offer fun adult activities, such as morning or evening fitness classes.
Open your doors to local businesses with custom team-building events on weekdays.
Run one-day camps during local school professional development days — working parents will appreciate the child care.
Create opportunities for school field trips.
Offer after-school groups, such as a dodgeball league.
Run a daycare service or partner.
Build some toddler-level activities and market to families with non-school-aged children.
Work with local homeschooling groups to offer gym classes or enrichment activities.
2. INVEST IN INTERNET MARKETING
Most parents will choose what to do with their weekends via online research. Your website and online advertising is the main way these families find your facilities.
It's best to build a social media presence and encourage families to engage with their social groups by posting photos with creative hashtags. Eye-catching, colorful equipment makes for great Instagram and Facebook photos. When a parent posts a picture of kids enjoying your playground, their network will see the benefit of visiting your business. Word-of-mouth via social media is a powerful tool.
3. DESIGN YOUR SPACE WITH FUN IN MIND
Profitability requires more than foot traffic. It's best to build customer loyalty and increase the length of time guests spend at your business. New, innovative equipment will entertain children for longer. Custom-built facilities and new additions make for a one-of-a-kind attraction.
Creating a space that beckons people back also requires great bathrooms, retail space and check-in areas. They should have a smart traffic flow and look attractive to both kids and adults. It's best to work with a designer that has experience in the entertainment industry.
4. OFFER BIRTHDAY PACKAGES
Whether you close the space for birthdays or give party-goers a private room, a great birthday event can be the lifeblood of your business. A package full of creative activities can entice a family to spend a bit more. Offer a few different packages for increased variety and some deluxe options for higher revenue.
Creating a high-quality experience for children's birthday parties also introduces new families to your business. If kids have a good time, they might come back or want to have their parties at the same place.
5. SELL FOOD AND BEVERAGES
Selling food at your business can increase your indoor playground profits considerably. While you'll have to invest more money and get some additional licenses to sell food on your property, food can be a great addition to your business. Guests will stay longer when they're able to refuel and rehydrate, and you'll gain another source of revenue for your business.
6. REMEMBER THE PARENTS
Families are more likely to stay longer when there's something for everyone. While most of your facility will cater to active kids and their wild imaginations, it's parents who take them there in the first place. Parents will appreciate the break from their routines provided by your playground. They'll also want something to do while they're relaxing. A coffee bar or an internet cafe can keep parents occupied while their kids play.
7. Include Kids of All Ages
Just like their parents, small kids can feel left out if there aren't activities they can do. The tremendous size of many indoor playgrounds can also feel intimidating to smaller kids. To make them feel more at home, you could create a separate area designed specifically for them. Set aside a smaller room just for your littlest visitors and fill it with age-appropriate play equipment and activities.
8. Get High-Tech
Now that devices like smartphones and tablets are so common, kids need an extra dose of "wow" to feel impressed. Upgrading to an interactive play experience is a great way to keep kids engaged both mentally and physically. Play structures that turn the experience into a game or that respond to kids' movements through interactive lighting technology add to the fun, encouraging healthy competition and exploration.
9. Build Your Local Reputation
While advertising online through websites and social media is great for reaching customers in other areas, word-of-mouth is the most effective way to build a solid reputation. After all, 92% of consumers report they trust their friends more than traditional media.
Partnering with local businesses and schools is a good place to start. You could provide nearby schools with free or discounted tickets to give to students at the end of the academic year — you'll generate interest among local kids, which can help to build your regular customer base.
Indoor Playground Business Plan
Creating a great business plan requires lots of research, and it's the first step to success for a profitable indoor playground. Your indoor play center's business plan can help you understand your financial costs and how many customers you need to be profitable. The Small Business Association recommends a business plan include eight parts:
1. EXECUTIVE SUMMARY
Start with an overall summary of the market opportunity, proposed business, location, management structure and loan requests. You should also lay out your mission and objectives.
2. COMPANY DESCRIPTION
Here, you'll describe the concept of your proposed indoor play area or entertainment center. What is the unique offering your business provides? Are you the only family fun center in the area? Are other companies targeting older children while yours is geared for toddlers? Lay out your startup costs as well as a budget for recurring expenses.
Also, you'll want to summarize your overall business model. Will you offer monthly memberships, hourly reservations, pay-to-play equipment or some combination? Give examples of other successful businesses in your area and how you intend to compete.
3. MARKET ANALYSIS
In this section, you'll lay out your potential customer base and competition. You'll want to pay consideration to the population and demographics in your area. A community of 10,000 people can mean a very different marketplace depending on who lives nearby. A popular retirement town may have a large population but few children. You can find demographics in your city or town using U.S. Census Data.
You'll also want to analyze your competition and discuss how you plan to compete. Other indoor playgrounds in your region can be significant competitors. Because of the unique value of indoor play areas, people often drive from far away to visit them. Building one in a new city can give families a great experience with less of a drive.
Other competitors might include parks and recreation or after-school programs. Bowling alleys and movie theaters often top families' lists of birthday party venues.
4. ORGANIZATION AND MANAGEMENT
Here, you'll outline the structure of your company and who will manage it. You'll list requirements for managers, plus full-time and part-time employees. You may want employees to have CPR certifications or experience with children. You'll also set rules, such as how many kids one employee can supervise.
You'll also lay out a pay structure. According to the Bureau of Labor Statistics, amusement attendants make an annual median salary of $24,760. Fitness trainers make an annual median salary of $40,510.
Using this information, you'll understand how many employees you need to hire and how much payroll will cost.
5. SERVICE OR PRODUCT LINE
Here is where you'll discuss your specific products and services. First, you'll outline how you plan to use your space. For example, 5,000 square feet dedicated to children 4 to 8 years old, 1,000 dedicated to toddlers and five private birthday rooms. You might also discuss specific structures and main attractions you plan to include.
If you plan to offer other services, such as private parties or fitness classes, you'll want to outline each of these services and their price point for consumers. If you sell concessions or merchandise, such as grippy socks, you'll describe these in your product line.
6. MARKETING AND SALES
Next, you'll discuss your marketing strategy and budget. As part of your sales, you can calculate how many kids or families you'll have to bring in each month to have a comfortable profit margin.
7. FINANCIAL PROJECTIONS
As part of your financial projections, you'll look at how your overhead and projected inflation will change your indoor playground's business costs over time. You'll also calculate a break-even point that shows how much revenue you'll need to bring in each month to break even on your investment.
8. APPENDIX
Here, you'll include any supporting documents that help your business plan. Your appendix can include research on demographics, competition and financial costs. It may consist of additional charts that demonstrate where you got your numbers from.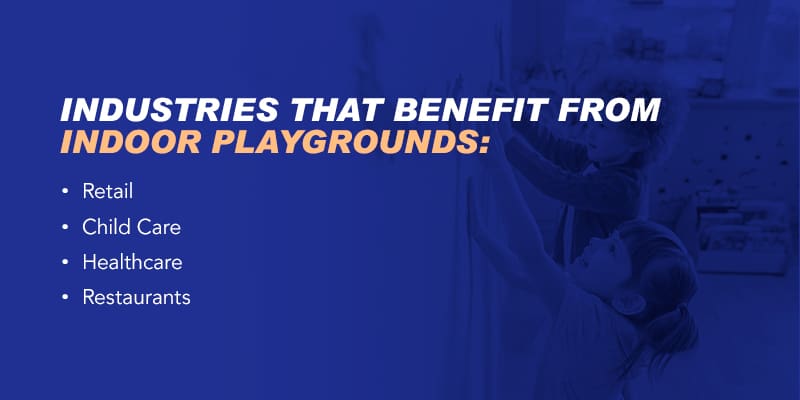 Industries That Benefit From Indoor Playgrounds
While many businesses build an indoor play area as part of an entertainment destination, many industries can add a bit of indoor fun to their business. Indoor playgrounds attract business from young families. They can help parents manage their active children while they shop and offer a superior experience. Here are some industries that benefit from indoor play equipment:
RETAIL
Malls and toy stores can both benefit from an indoor playscape for their guests. Indoor playgrounds turn retail spaces into a destination.
Indoor playgrounds bring foot traffic to your business and keep them there longer. The added entertainment will put visitors in the right frame of mind to continue shopping. It can also provide an added benefit to parents. With the proper setup and supervision, a playscape can serve as a drop-off area for busy families. They can get their shopping done while you watch their children.
CHILD CARE
Day care is a considerable investment for many families. An indoor playground can set your daycare center apart and make your services worthwhile. Parents see playground equipment as beneficial because they help with child development and social skills. Indoor playgrounds give kids exercise and help overactive children get their energy out, all while helping them develop.
With indoor equipment, you can offer Soft Play every day, regardless of the weather. You'll make your staff's job more manageable and make parents and kids alike happy to come back each day.
HEALTHCARE
A waiting room full of soft play equipment turns going to the doctor into kids' favorite activity. By adding some unexpected features to your healthcare business, word will spread that your office is the best in the area for small kids.
Soft playground equipment can also be useful for children's physical therapy. Custom-designed, kid-centric equipment in children's hospitals can make healing fun for families. You'll also encourage physical exercise at an early age, keeping your patients healthy.
RESTAURANTS
Turn your dining room into a destination with an indoor playground. Eye-catching playground equipment brings families with kids in the door. Helping families occupy their busy kids can make mealtime more relaxed, and you can show your commitment to children's health.
MUSEUMS, ZOOS AND AQUARIUMS
With custom-designed playgrounds, your business can provide an educational discovery zone for kids. Children love the chance to get active, and parents appreciate the ability to help their kids learn and grow. Zoos and Aquariums can offer animal and aquatic-themed playgrounds to occupy kids when the weather is bad. By custom designing indoor equipment, you can build a themed playscape that fits into your purpose and mission.
Frequently Asked Questions for Starting an Indoor Playground Business
Still have questions? Here are some of the most common questions and concerns about building an indoor playground:
HOW MUCH DOES IT COST TO BUILD AN INDOOR PLAYGROUND BUSINESS?
Indoor playgrounds are highly customizable and can work within many budgets. If you are adding a play area to an existing business, you can find a cost-effective solution from our Pick & Play collection. If you are looking to start a family entertainment center, your total investment can start at around $100,000, including rent and startup costs. The more you invest, the bigger the space you can rent, and the more custom equipment you can build.
The best way to find out how much it costs to build an indoor playground business is to begin researching your local real estate prices. You can also contact your playground equipment vendor to discuss designs and budgets.
IS AN INDOOR PLAYGROUND A GOOD BUSINESS?
An indoor playground offers families a weekend activity when it's raining or too cold to go to the park or play outside. They can also provide air-conditioned comfort in the hot summer. The success of your indoor playground depends on the work the business owner puts in and the demand they generate.
WHAT IS AN INDOOR PLAYGROUND'S ANNUAL INCOME?
Many factors influence an indoor play center's income. Number one on the list is how many customers you serve and how frequently. A large facility will have a bigger draw and keep guests entertained and spending money longer. However, you'll also have to pay more in rent and payroll. A small facility can seek more income through after-school programs and fitness classes.
ARE SOFT PLAY CENTERS PROFITABLE?
Soft play centers are indoor playgrounds featuring padded floors and equipment. They attract families with a mid-to-high level of disposable income who seek entertainment and childcare. The more diverse offerings you can bring to your center, the more profitable you can be. For example, adding a high ropes course or a water play area can attract older kids, while younger kids enjoy the soft play area.
How Much Does It Cost to Operate an Indoor Playground Business?
In addition to how much you will need to pay to set up your business, you also need to factor ongoing expenses into your indoor playground business costs. These expenses include:
Overhead costs
Lease
Scheduled maintenance checks
Payroll
Staff training
Marketing
Legal compliance
You'll need to account for these operating costs to ensure you can turn a profit — one of the best ways to do this is to use this information as the basis for your pricing. Plus, selling extras — such as snacks or merchandise — and providing a diverse experience can entice customers to spend more, so you can factor those costs into your operation, as well.
Do I Need a License to Open an Indoor Playground Business?
You need two basic licenses for an indoor playground in the United States. They include:
General business license: You need a general business license for registration and tax purposes. Normally, this license will cost about $300.
Doing Business As (DBA) license: A DBA license allows you to do business using your company's operating name, which might be different from its registered legal name. Some states don't require DBA licenses, but you should always check before trying to do business using a different name.
Other licenses you may need depend on your state and the nature of your business. For example, if you offer a childcare service, you may need additional licenses. Similarly, if you plan to sell food, your state might require that you obtain a food-handling license.
Start Designing With Soft Play
If you're considering opening an indoor playground in your area, Soft Play can help. We offer both custom playscape design services and a selection of pre-made soft playground equipment.
Take a look at some of the custom-built products we offer or contact us for designs and pricing estimates.