Instagram is an incredible tool for businesses of all shapes and sizes. Making an account is free, and anyone who follows you is voluntarily telling you they want to hear from you. Even if you use paid advertising, it's generally quite affordable and cost-effective. And, if you can get your customers to rave about you on social media, you have another form of free advertising at your fingertips.
How can you get more followers, likes, comments and views on your Instagram account to spread the word about your business? At Soft Play®, we're experts at attracting families to your physical location, and we know a thing or two about how to bring them to your social channels, too. If you're wondering how to improve your business on Instagram, we've put together just the guide you need.
Table of Contents
The Importance of Using Social Media to Promote Your Business
Before we get into how to grow your Instagram business account, let's talk about why you should be zeroing in on social media and this platform in particular.
Why do people choose one business over another? While the reasons can vary, one of the main ones is the personal connection. Going the extra mile to serve customers is a cornerstone of business strategy. Why do people use social media? Again, many of the reasons involve making connections. Any business that uses social media can connect with current and future customers. That connection can get as deep as a one-on-one discussion over direct messages.
Meanwhile, your regular posts showcase your brand's personality, making customers feel like they're interacting with real people. Your audience craves that human connection, and from a marketing perspective, it works. Social media has helped 93% of marketers increase their exposure in 2019. That exposure has a massive impact on sales.
About 90% of consumers who connect with brands on social media buy from those companies. Among those who follow brands on social media, 57% are specifically interested in learning about new products or services, and 40% are hunting for promotions and discounts.
Social media can help you grow your business, and Instagram is one of the top channels to focus on. Since 73% of marketers use Instagram, it probably makes sense for your business to jump on board. The social media site attracts 200 million users, who visit at least one business profile every day. Between advertising and organic reach, your business can easily get found on Instagram. That is, if you use a sound Instagram strategy.
How to Get People to Follow Your Business on Instagram
Half the battle to grow your brand on Instagram is getting your current following to engage. Like most social media platforms, Instagram wants its users to stay entertained and on the app for as long as possible. So, it rewards accounts that drive engagement through views, swipes, likes and comments.
Accounts that receive the most attention are more likely to be suggested to potential followers. They're also more likely to show up in your followers' feeds. This strategy shows how you can continue to engage and drive your followers' networks to follow you.
The other aspect of designing an effective Instagram strategy is getting users to discover and follow you. Here are some tips to help you achieve both:
1. Optimize When You Post
If you have an Instagram business account, you have a wealth of analytics at your fingertips. One data point you should pay particular interest to is when your followers are most often scrolling their feeds. You'll see this number broken out by the time of day and day of the week.
When you post something new around the same time as your users are on the Instagram app, your post is more likely to show up at the top of their feeds. If you can get engagement on that post as soon as it goes live, it's more likely to continue showing up in your users' feeds. You'll get more users tagging their friends in the comments or adding your posts to their Stories — plus more likes on your posts in general — which can tempt new followers to join.
2. Engage With Your Ideal Customers
One way to find new followers is to engage with them before they follow you. You'll want to reach these users in a natural, non-promotional way and find those who are most qualified to be potential customers. Users who comment on your competitors' posts or use hashtags related to your product are highly engaged. They may be your future fans, too.
Once you've verified a user is the type of person who would use your products or services, like their comments. Then, head to their profile and leave an insightful comment or two on any posts related to your business. If you run a family entertainment center, commenting on a user's family pictures is most natural. Remember not to mention your business. Instead, leave something interesting that might prompt users to check out your page themselves.
3. Cultivate Consistent Posts
There are two aspects to consistency on Instagram — posting often and posting similar content. Most brands post several times a week, and some even many times a day. As long as each post is relevant to your audience and adds real value, don't be afraid of posting frequently. The idea is to remind your audience of your business so they'll think about you often. For those considering following you, a steady stream of content that inspires, educates or offers exclusive deals can make your account seem more worth pursuing.
The brands that do best on Instagram are those that curate a distinct look. Instagram is a visual platform, and people love seeing content with a cohesive aesthetic. Using similar lighting, camera angles and filters in all of your pictures is a great way to do that. If your profile visitors see a beautiful grid on your page where every photo complements the ones surrounding it, they're more likely to tap the follow button.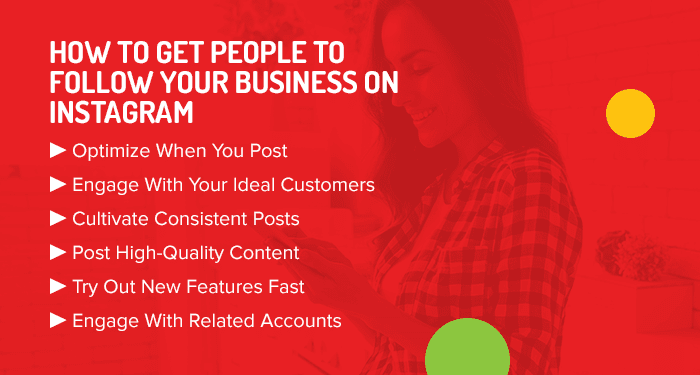 4. Post High-Quality Content
Consider why your followers want to hear from you. If you run a family restaurant, your audience probably wants to hear about upcoming specials and meal deals. Posts that highlight your new menu items and specials will likely do well. High-quality content can also include educational content. A family-friendly restaurant could post a picture of a dish and discuss kids' nutritional needs, underscoring how the photo represents a balanced meal.
Anything you post should be either entertaining, relevant, informative or attractive. You want content that makes potential followers feel like they could miss out if you don't show up in their feeds. Besides having something to share with your audience, your content should have high-quality photography and well-written captions.
5. Try Out New Features Fast
Instagram and every other social media platform are always rolling out new features they hope audiences will love. As a result, the algorithm will likely promote accounts who adopt these features right off the bat. One of the latest features to enter the Instagram sphere is Reels, and before that, it was IGTV.
If you can find a way to create meaningful content related to your business, using new features before your competitors do, you'll generate discovery opportunities. With Reels and IGTV in particular, new followers can find your content through the Explore section of the app.
6. Engage With Related Accounts
Engaging with similar accounts does several things to help you gain new followers. First, it introduces other accounts' followers to you and your content. By showing up in the comment section, users scrolling through can discover you. Interacting with related accounts, whether they are direct competitors or other pages that post things related to your business, tells the Instagram algorithm what your brand is all about.
On the small and medium business level, the accounts you engage with might be other local businesses. If you're hoping to attract families to your museum, for example, engage with the family-friendly restaurants within walking distance. It makes just as much sense for those restaurants to engage with the local museum, too. An amusement park might follow and engage with some of the other family attractions in the area. After all, families who visit one are likely to try out another.
When you often engage with individual accounts, you'll appear in their "suggested for you" section. Each Instagram page has its own personalized suggestions. When someone visits a page and follows the account, they'll be greeted with a side-scrolling list of similar pages, and you'll want to be one of them.
Ways to Enhance Your Space to Make It Instagramable
Another way to gain exposure for your business on Instagram is to encourage your customers to post about you on their personal accounts. This tactic is arguably one of the best ways to gain followers on Instagram because people tend to trust recommendations from individuals in their networks.
If a mom posts a picture of her kids enjoying a family dinner from your restaurant, all her followers with their own kids will see your food and restaurant in a positive light. If she tags you, her followers can check out your page right from her post.
While it's hard to control whether your customers post about you on social media, creating a photogenic restaurant and atmosphere gives them the incentive and inspiration. An Instagramable business can also set the perfect stage for your brand's official content. Here are some ways to create photo moments and an Instagram-worthy atmosphere for your business:
1. Create a Themed Environment
While not every business needs a theme,themes create a cohesive experience and tons of photo ops. Some companies even cater to this with Instagram playgrounds, which offer unique photo moments and museum exhibits to post to social media.
A fully fledged concept can create a unique atmosphere your visitors will naturally want to pose in front of. Some common examples in the family-attraction industry include dinosaurs and animals, and they can get as detailed and unique as your creativity takes you.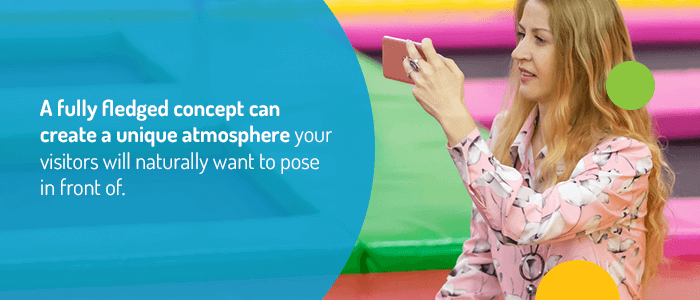 At Soft Play, we've created themed kids' playgrounds to match the attractions where they're located. Our Under the Sea themes work well for aquariums, and our themed ski resort playground fits right in at any winter wonderland. We've also designed unique attractions to serve as a theme in their own right.
2. Designate Some Fun Backdrops
Bold statement walls, bright colors, fun slogans and artistic designs encourage customers to snap a pic. These things can turn any business into an Instagram playground. They'll break up your white walls to make the space feel more inviting, and your social-media-minded visitors will scope them out as the perfect background to strike a pose.
Your backdrops can be as creative as your business itself. You can include your logo to increase your exposure online, as long as you make the wall worth photographing. Some brands use flowers or greenery to spice up their accent walls. Others use neon lights, inspiring quotes or eye-popping graphics.
Be sure the area has adequate lighting and is situated so customers can comfortably take pictures without distracting other guests.
3. Frame Your Environment and Your Products
Whatever elements of your business you're hoping to draw the camera toward, make sure they're framed properly. For a restaurant, this can mean serving food on tables that are attractive and inviting to picture-takers. At some restaurants, it makes sense to garnish dishes and make them more camera-ready. If your business is more of a family attraction, you want the environment to encourage pictures. That includes good lighting and a dynamic arrangement so your attraction looks appealing in photos from any angle.
Playground Elements to Enhance Your Family-Friendly Business
Nothing looks better on social media than smiling faces and people having a good time — especially kids. Adding some playground sculptures to your business serves two purposes. Besides being a fun photo op, playgrounds let parents snap candid pictures of their kids enjoying your attractions. Well-kept, colorful playground equipment also presents the perfect backdrop while keeping kids happy and occupied long enough for a photo. These playsets are ideal for restaurants, theme parks, family destinations and any other business that serves kids and their parents.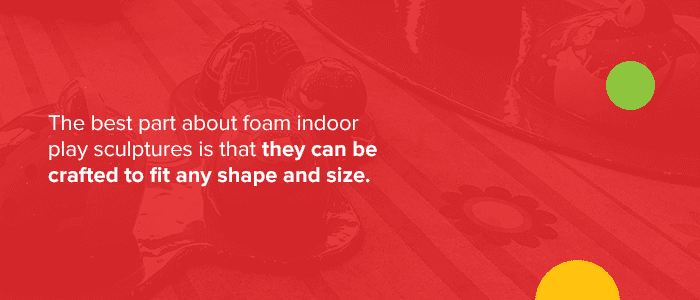 The best part about foam indoor play sculptures is that they can be crafted to fit any shape and size. Whatever objects will excite and inspire your customers can easily be made out of foam. From frogs or bears to candy canes or coral reefs, we can help you construct an Instagramable playground for your youngest visitors. Here are some kid-friendly sculptures and photo-worthy elements you can incorporate into your location:
1. Pick & Play™ Featuring Toonies
The Pick & Play™ collection from Soft Play is perfect for shopping malls, theme parks, zoos, hotels, museums, restaurants, doctors' offices and any other business that wants to start attracting families — and their resulting social media content. The Pick & Play™ Toonies turn any small space into a themed play area fit for an Instagram feed, offering fun characters kids can interact with. Choose from five themes and select a freestanding or corner-style layout to fit your business.
Or, if you want to design your playscape or mix and match your Toonies, check out our customizable Elementz collection.
2. Concerto Music Play
Let your customers jump on board with Instagram's latest music- and video-oriented features with playsets that delight multiple senses at once. The Concerto line lets kids interact with sound and compose their own songs in an attractive playscape setting. Kids playing their personal masterpieces are sure to inspire parents to post a quick clip to their Stories or Reels.
3. Imagination Play
Planes, trains, cars, rocket ships, clear domed windows and more offer perfect photo backdrops. Our imagination play events are designed to spark creativity while putting kids in the driver's seat. Kids are sure to love posing for pictures in some of their favorite vehicles and play elements, shrunken down to their size.
4. Custom Sculpted Foam
Looking for something unique? Whether you want playscape elements themed and branded to your business or something never-before-seen that's sure to inspire social media exposure, we have the perfect solution for you. Soft Play isn't a one-size-fits-all solution, and we love designing custom foam sculptures and play elements to make your business truly unique.
5. Themed Contained Playscapes
If you want something genuinely immersive, consider a themed playscape, full of Instagramable moments for every family. From airports to medieval castles and clock towers to farmlands, themed playgrounds from Soft Play will transport kids to another world. With plenty to see and do, these playsets can become the perfect opportunity for social media posts.
Get Photo-Worthy Playground Sculptures From Soft Play
If you're ready to make your family-friendly business pop on social media, Soft Play can help. Our playgrounds and foam sculptures can help you get families in the door while providing hours of entertainment that will bring them back for more. Whether you want something predesigned or custom-built, our colorful and creative solutions will jazz up your Instagram grid and help inspire social media shoutouts from your best customers.
Contact Soft Play for more details about commercial playground sculptures to enhance your space. Or, book your free design consultation to start building your Instagram-worthy kids' playground today.