The quick-service restaurant (QSR) experience is the sum of all of a customer's interactions with the restaurant. With so many fast-casual restaurants on the market nowadays, it is more important than ever to cultivate a positive QSR experience. Providing your customers with a delightful dining experience will make them more inclined to choose your restaurant again and steadily build your customer base.
To help you enhance your QSR experience and grow your business, learn the top QSR experience improvements, including QSR business strategies, social media hacks and marketing and advertising techniques. Discover how to attract more customers to your QSR and maintain customer loyalty below.
Read the article or jump to a specific section:
How to Improve Customer Experience in the QSR Industry
Follow the tips below to turn your QSR into a can't-miss dining experience.
1. Evaluate the Restaurant Design
Customers expect an enjoyable ambiance at fast-casual restaurants and are not afraid to take their business elsewhere if a QSR does not deliver. To accommodate consumer expectations, a QSR needs to provide a space that's inviting and encourages customers to stay and hang out for a while. The longer customers hang out in the QSR, the more likely they will be to order more.

To become a hangout spot, a fast-casual restaurant must focus on a few key physical and atmospheric features that contribute to the customer experience. These spatial design elements include:
Comfortable seating: The seats in your QSR's dining area must be comfortable if you want customers to stick around for an extended amount of time. Chairs or booths with nice cushions and adequate back support will make customers more inclined to stick around to socialize.
Appropriate music: Music can make or break a restaurant experience. As much as customers do not want to eat in silence, they do not want to have to strain to hear each other or the restaurant staff. Make sure your QSR plays subtle background music that enhances the mood without being too loud or overpowering.
Good lighting: Your restaurant needs to be well-lit so your customers can see the delicious food they are about to enjoy. Because eating is partially a visual experience, the right lighting can boost the overall customer experience. Make sure your restaurant's lighting isn't too harsh or so bright that it detracts from the ambiance.
Consistent theme: Whether it's obvious or understated, make sure your restaurant has an underlying theme. Along with being aesthetically pleasing, a decorative theme or color scheme will make the customer experience feel more harmonious. A particularly memorable theme will also set your QSR apart from other restaurants and entice more customers to come and experience it.
2. Ensure Convenience
Customers are looking for convenience when going to a quick-service restaurant.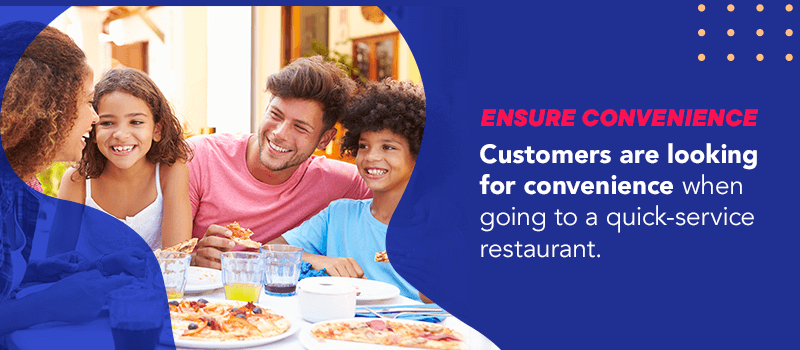 The main appeal of fast-casual dining is the fast ordering process and lack of waiting to receive your food. QSRs can become even more convenient and attractive to consumers by introducing time-saving initiatives like mobile ordering and delivery services.
Mobile ordering allows customers to order ahead of time through an app, letting them prepay and receive their food immediately upon arriving at the restaurant. Most customers who order on their mobile devices use a debit or credit card. That process enables restaurant staff to keep to-go orders ready for pickup and focus more on in-store customers instead of helping mobile orderers check out.
For extra convenience, customers can save their favorite meals and frequent orders in the app. Mobile ordering then becomes as quick as one touch to add the food to the cart and one tap to pay. The customer also has the freedom and flexibility to set their designated pickup time to retrieve their order at their convenience.
For customers who prefer delivery to pickup, your QSR mobile app can offer delivery services. As one of the fastest-growing online industries, food delivery is quickly becoming a staple of the fast-casual dining experience. Whether your QSR partners with a third-party provider like DoorDash or Uber Eats or offers its own in-house services, your restaurant should have delivery options.
Offering mobile app ordering and delivery services helps QSRs stay current in how they interact with their customers. With each generation becoming more and more reliant on mobile technology, fast-casual restaurants need to have mobile apps to remain relevant and viewed as a viable takeout option. Providing your customers with the convenience of tech-savvy ordering will keep them coming back.
3. Provide Entertainment
As fundamentally emotional beings, humans are attracted to brands that make them feel something. The quick-service restaurant experience should be entertaining enough that it makes the everyday activity of eating feel exciting. Your QSR can make grabbing dinner extraordinary by providing entertainment.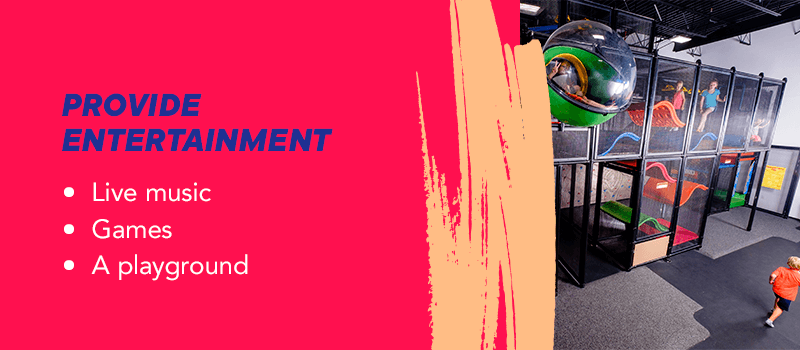 Here are some of the top ways to make your customers' restaurant experience more engaging and entertaining:
Live music: You can make your restaurant's music more than just background noise by having a band perform live. Live music that fits your restaurant's ambiance will be a huge draw for music lovers of all ages. You can get your customers even more involved by hosting a live karaoke night once a week or month. Customers will come for the food and stay for the show.
Games: Providing games for customers of all ages can make them more apt to choose your QSR over another. For older customers, feature classic lawn games like bocce ball, giant Jenga or shuffleboard in your restaurant's outdoor area. For customers with younger kids, you can provide activities such as board games or coloring books. Having these activities available can help parents get their kids to settle down or wait patiently for their food to arrive.
4. Create Play Offerings for Kids Ages 1 to 3
A play space in your quick-service restaurant is another excellent way to provide entertainment. For kids who range from 1 to 3 years old, soft sculpted foam products make the perfect play area. Families with little ones will love exploring all of the fun structures within a soft play space. A playground filled with soft sculpted foam products offers enough sensory engagement to keep even those with the shortest of attention spans occupied for a while. Create inviting play areas for little ones with components like:
Pick & Play™: Featuring low-profile climbers, tunnels and ramps, these soft sculpted play components come in various sizes and themes to suit your QSR. Pick & Play™ creates whimsical indoor playgrounds that are sure to keep families with little ones coming back.
Elementz: Customize your QSR's play space with individual play structures or convenient package options. Elementz features various inviting play shapes, from tunnels and climbers to stepping pods. Encourage free play and creativity with this modern play option for younger kids.
5. Offer Play Options for Older Kids to Burn Energy
Older kids might want to be a bit more active. A commercial indoor playground will allow them to burn some energy and stay entertained throughout their restaurant experience. A fun play space will help your QSR attract new customers and retain old ones by offering a place for families to both eat delicious food and make memories playing together. An awesome playground will certainly have kids asking their parents to go to your QSR again and again.
Interactive challenge courses give older kids ultimate play value by allowing them to get active and conquer a range of highly interactive obstacles. Customize your play equipment with colors and logos that suit your restaurant's brand and offer a unique experience that's sure to set your establishment apart from others. If you're trying to cater to families with older kids, consider including an adventure playground in your QSR.
6. Engage on Social Media
A strong social media presence is crucial for fast-casual restaurants these days. Your QSR will need a social media account that connects with its customers, engages with consumers, advertises effectively and provides a visually appealing user experience. Fortunately, creating a social media account is free and allows you to reach billions of people instantaneously.
Before choosing the best social media platforms for your restaurant, consider your target demographic. For example, Facebook tends to be better for customers aged 50 years and older, while Instagram caters more to consumers between 18 to 34 years old. Zeroing in on the audience you want to reach will help you focus your efforts and increase conversions.
Be sure to stay consistent with how you represent your QSR on social media and cater your content to the relevant audiences. Follow these tips to make your restaurant a social media sensation:
Pick a theme: Instagram, in particular, is all about visual appeal, so you will need to demonstrate that your QSR is the perfect spot for pictures. Provide Instagram users with bright colors or a patterned accent wall to take photos in front of. Sticking with a specific color scheme or print will make your restaurant infinitely more 'gram-worthy.
Use fun phrases: Similar to an accent wall or mural, fun phrases and quotes can serve as the ideal photo-op for customers. Whether you choose to use wall decals or write on chalkboards in flowing cursive, you'll attract those searching for their next Instagram post with clever sayings scattered throughout your restaurant.
Create an experience: Social media is all about sharing pictures and videos of experiences as opposed to simple still-life images. You can draw more Instagram users to your QSR by crafting experiences like playing giant Jenga outside, celebrating a trivia night win or watching your kids enjoy the indoor playground.

Along with attracting customers, you can use your QSR's social media account to promote more discussion from your followers.
Inspire more engagement with your brand by hosting a photo or video contest among your followers, complete with coupons or prizes for the winners. Social media is also an excellent avenue for soliciting feedback directly from consumers. You can learn what your QSR is doing well and how it could improve by interacting with customers on social media.
7. Reimagine the User Experience
If you want your QSR to stand out among the competition, you need to be forward-thinking and proactive. Consider the details of the customer experience and what your customers may wish they had. Incorporating more technology may help you enhance your customers' experiences by providing them with self-serve order kiosks, for instance.
Menu changes can also improve the overall user experience. Depending on your customer base, you may want to include menus in other languages or menu subtitles for customers who are not native English speakers. Including pictures with your menu is another helpful tactic for customers with different language backgrounds or anyone struggling to decide what to order.
Another small upgrade you can make to promote customer satisfaction is providing an indication of how long the wait will be until their food is ready. Whether they ordered ahead online or just placed their order in person, try to give your customers an accurate idea of when their meal will be available. Doing so will make your restaurant's customer service memorable and foster customer retention.
8. Organize Themed Nights or Events

Hosting special events at your QSR is an excellent way to get more people in the door.
Any themed night, special offer or late-night discount will boost your restaurant's sales. Offering happy hour deals or late-night bargains will make your restaurant a more viable option for customers at certain times of the day.
Throwing a themed night is a great way to show customers that your QSR has some personality. You can choose a theme that fits with your restaurant's motif, coincides with a holiday or has some sort of pop culture relevance. Make sure you commit to the theme and go all-out, including decor, activities and games that fit with the theme.
To attract more families to your restaurant, try organizing a kids' night. You can easily host an exciting kids' night — complete with costumes, coupons, contests and giveaways — that's fun for kids and parents alike. Giving attendees a small favor to take home at the end of the night will provide them with a permanent reminder of your restaurant and the enjoyable evening they had there.
Another effective method of drawing in more families is a kids-eat-free deal. Many restaurants offer a free children's meal on a specific day of the week to appeal to busy parents who don't want to spend time cooking another homemade dinner. These special offers can do wonders for your restaurant's reputation and sales by making it a top destination for families.
9. Embrace Your Brand
Your restaurant's brand is essentially its reputation with the public. Branding is the perpetual process of identifying, crafting and managing the actions and messages that shape the perception of your restaurant in consumers' minds. This process is critical to your QSR because it can drive new business, increase business value and generate public trust.
Here's a breakdown of how branding brings about these benefits:
Drive new business: Strong branding most often leads to new customers through referrals. A positive and effective brand message will leave customers with a lasting impression of your restaurant. These happy customers will be inherently inclined to recommend your restaurant to any hungry friends, resulting in more business for your QSR.
Increase business value: A well-established brand can boost your QSR's business value by giving it more leverage in the restaurant industry. Having a strong reputation translates into value with heightened influence, price premium and consumer awareness. In this way, a firmly established brand is a more appealing investment opportunity.
Generate public trust: Ultimately, branding revolves around the amount of trust customers can have in your business. More trust means an improved perception and reputation. Branding builds this trust because people subconsciously appreciate cohesive design and well-executed marketing. Consistent branding demonstrates reliability and a commitment to excellence that customers naturally assume translates into your restaurant's products.
To embrace your restaurant's brand, you will need to decide what your QSR is all about and what values you want to promote.

Come up with a strategic plan to best communicate these values to consumers and devise an appropriate marketing campaign. By making the most of social media and glowing customer reviews, you can quickly boost your brand recognition.
10. Set High Standards
In today's world, customers are used to getting what they want, when they want it and how they want it. They have even come to expect personalized service from all businesses, including fast-casual restaurants. To keep up with these customer demands, your QSR staff members will have to hold themselves to high standards.
Successful brands set high standards for themselves. They recognize the need to execute their services with excellence to be associated with quality. Your QSR can differentiate itself from other fast-casual dining spots by providing a level of service that customers would expect from a fine-dining establishment.
Customer service that goes above and beyond customers' expectations will increase their value perception because you deliver more than merely your product's functionality. Demonstrating your deep understanding of what customers need and want through fabulous customer service will benefit your brand's reputation and increase your customer retention.
Delivering unbelievable customer service doesn't mean chasing perfection and exhausting all your resources. Instead, it involves being intentional and devoting your resources to the details that will create the most impact. Come up with a customer service strategy that will highlight your QSR's unique brand traits and communicate a one-of-a-kind brand personality.
11. Reward Your Guests
Achieving long-term customer loyalty requires a strategic approach to rewards programs. The program should continually educate customers about the special offers and deals for their loyalty and motivate them to earn these rewards.
Simply rewarding customers with random coupons and promo codes will not foster brand loyalty. The secret to creating strong customer loyalty is forming an emotional connection between customers and your brand.

Your customers want to feel like you care about them, which means you need to anticipate their needs and offer them personalized deals.
Getting to know your regular customers' usual orders and preferences will let you reward them with special services and attention. Offering customers deals on menu items they frequently purchase will mean more to them than a generic coupon for something they would never order.
To reward your guests, you can choose from several different loyalty program approaches. Here are some of the most popular options:
Punch cards: A punch card is a classic method for keeping track of how many times a customer has ordered an item. For most punch card systems, the customer simply has to buy the same item nine times to get the tenth one free. You can customize this program by offering a variety of punch cards specific to different menu items.
Points: A points system is slightly different from punch cards because it keeps track of dollars spent. This process converts the number of dollars spent to points. It allows customers to keep racking up points until they reach a certain threshold, such as 100 points, at which point they will have earned a free item or coupon.
Mobile app loyalty program: Mobile app loyalty programs are a convenient way to retain customers with very little effort. Digitally keeping track of a customer's orders frees staff up from manually punching cards or marking points. Additionally, the mobile app can keep a log of the customer's past orders and most frequently ordered items, indicating what type of coupon or reward they would value most.
Referral program: A referral program is a perfect way to strengthen customer loyalty while gaining new customers. Offering regulars incentives for bringing in a family member, friend or any other first-time customer will boost your sales and build your customer base.
12. Make Your QSR Stand Out
With so many fast-casual restaurants on the market nowadays, you will need to do something to make your QSR stand out. Providing a unique experience is the best way to set your quick-service restaurant apart. Offering consumers a dining experience they can't get anywhere else will convince them to choose your restaurant again and again.
Try one of the following strategies to make your QSR outshine other restaurants:
Food challenges: Eating contests are always a crowd-pleaser. Invite customers to attempt to finish an inordinate amount of food and offer a prize, such as a free meal, shirt or other pieces of merchandise if they can complete the challenge.
Novelty products: Seasonal or even gimmicky items can help restaurants attract customers' attention. A novelty product will stick out in customers' minds and intrigue them to try it. Additionally, the time sensitivity of a limited offer instantly makes it more appealing to consumers.
Unique theme or activity: Choosing a unique theme for your QSR will separate it from other fast-casual restaurants and make it a more exclusive dining experience. A fun activity that fits with your theme, such as a themed playground, will also attract more families to your QSR. By enhancing the customer experience, a themed playground will elevate your customers' overall satisfaction.
Make Your QSR Stand out With Equipment From Soft Play®
If you're ready to enhance your QSR experience and build your brand, check out the wide range of restaurant playground equipment from Soft Play. Our playground options provide families with a fun environment to hang out in and a memorable dining experience. When paired with excellent customer service, an indoor playground can turn families into lifelong customers.
At Soft Play, our expert building consultants will work alongside you to come up with the perfect play area for your QSR. We offer a free design consultation so you can plan out what your restaurant's playground will look like and see your vision come to life. Request a quote from Soft Play to get started on enhancing your QSR experience today.