"Our swim team mascot is the Sea Dragons," says Eric Mehl, Assistant Director of the Monon Community Center, an outdoor water park. "When we saw that Soft Play had a floatable dragon and we could customize it with our team colors, we were really excited. We nicknamed it 'Dotty the Dragon.'"
The city of Carmel is a fast-growing suburb north of Indianapolis and, according to Mehl, the Parks Department recently celebrated its 20th anniversary. Initially comprised of areas of green space and playgrounds, residents expressed a need for a community center where they could exercise, meet and take their children.
Carmel Clay Parks' Monon Community Center first opened its doors in 2007 and is located on the popular Monon Trail, part of the Rails-to-Trails Conservancy, which is a nationwide network of trails created from former rail lines. The 146,000-square-foot, state-of-the-art facility includes The Waterpark.
"When we first opened the water park in 2007, Soft Play provided our original cargo net and water walk," says Mehl, who adds that the equipment stood up to intense use and outdoor elements wonderfully. But, after eight years, "it was time for a refresh."
Mehl called Soft Play to see what was available.
"I told them that we wanted a fresh new look in that area," says Mehl. "When we saw their sea dragon, we fell in love with it. We asked them to customize the colors on the dragon's spine so that it could match our team colors – navy blue and hunter green. Soft Play said that was no problem. So, we have our very own, custom sea dragon."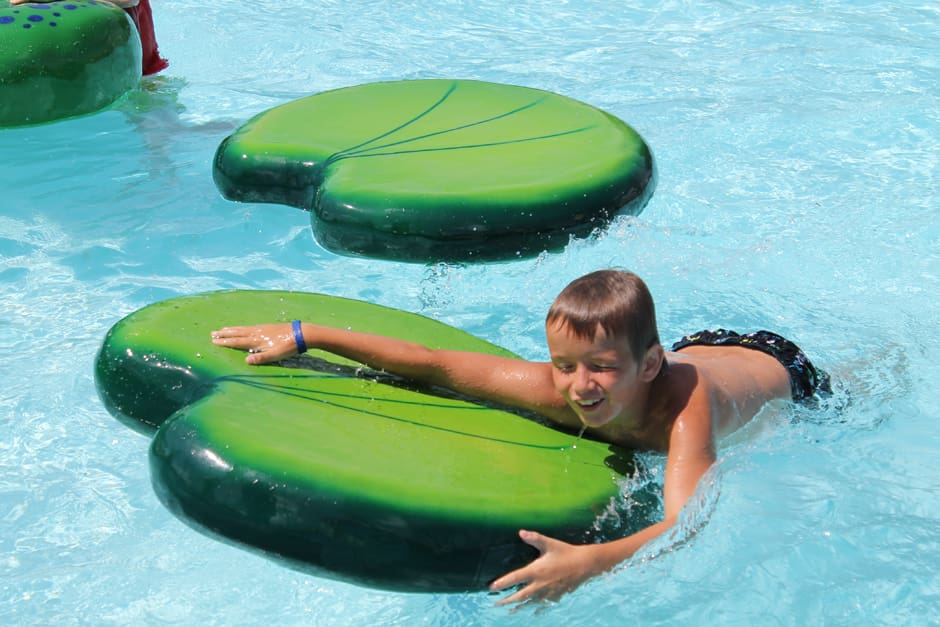 Soft Play finishes its water play elements for water parks with UV- and chlorine-stable, abrasion-resistant, HydroTuff coatings, specifically designed for environments that require resistance to high acid and alkali (chlorine) conditions.
"We went with lily pads where kids start the walk and then the dragon is the last thing in the walk," he explains, adding that they also updated the cargo net. "The original net was brown. We decided to do a bright red net, so it stands out and people can see it from far away." Mehl says the response from the community this summer season was very positive.
"We are in a community where people like to see things fresh and nice," he says. "We listened and, instead of just doing the same thing over, we thought, 'Let's do something even more fun!' Everyone seems really happy."