Zoos and aquariums are about more than just entertainment — although they're lots of fun to visit! These destinations play a crucial role in teaching younger generations about conservation efforts, environmentalism and research into wildlife species around the globe.
Although 700 million people worldwide visit zoos and aquariums each year, many zoos have found their attendance numbers going down in recent years. Why is zoo attendance declining? The reasons for this are varied, but many zoos find it challenging to offer lots of different species or come up with the space they need to house large animals and attract an audience.
Increasing visitation can — and should be — a key goal of anyone in zoo management. After all, the more people visit your zoo, the more people are influenced by the content and research you share about the stunning animals that call your zoo home.
Boosting attendance requires a careful strategy to engage your target audience. It may be tempting to rely on regular social media posts or flyers around town, but that's only part of a robust strategy to increase the number of visitors at your zoo.
The Importance of Audience Engagement
Audience engagement is a fancy marketing term for a connection or involvement from the people who are visiting your zoo. With audience engagement, you need to do more than ensure visitors enjoy their time watching large animals. Intentionally interacting with visitors even before their first visit will ensure they have a pleasant visit and want to return again.
Engaging your audience means developing messaging that makes them feel like part of the zoo family.
As a result, you'll help them cultivate more than just a fleeting interest in your mission and work done with the animals you house.
There are a few tools every zoo and wildlife institution should have in their toolbox to increase attendance and see a significant return on investment:
Social Media
The best way to develop effective audience engagement zoo strategies is to listen to the people you're trying to engage. These days, the best way to figure out what your target audience wants is to cultivate a robust and active social media presence.
Zoos are uniquely positioned to cultivate a faithful following online because of the diverse availability of subjects for engaging photos, videos and educational content. Offering young audiences educational content to complement what they're learning in school can create a faithful following of kids and adults who see your organization as an advocate for education.
Social media can quickly become overwhelming because there is such a diverse group of platforms available. Rather than using all of them — or trying to guess where you're most likely to find followers — be proactive about gathering marketing data. Discover key demographics to help you decide which social media platforms to frequent. One big target audience for most zoos is parents. Confirming this with data can help you determine which social media platform is most frequented by parents who will engage with and visit your organization.
Brand Engagement
Brand engagement goes beyond just getting your name out there. It's about prompting an emotional response or commitment to your organization and its goals. Growing zoo attendance through brand engagement involves sharing information about the value and beauty found in our natural world. Find ways to teach new generations to appreciate and protect the environment by giving them a love of the creatures who share planet Earth.
Brand engagement and social media go hand-in-hand because social media provides zoos with a platform to go beyond exhibits. Use your social media and site to form emotional connections with your audience.
Reviews
According to research, 94% of consumers avoid a business after seeing a negative review online. Therefore, managing your online reviews should be an essential part of any successful zoo marketing strategy. If you don't already, implement strategies to monitor and respond to reviews. When your audience sees that you respond to reviews, especially if you have a negative one, it shows you're engaged with your patrons and want to make their experience a good one.
Providing outstanding customer service and a great zoo experience are the best deterrents toward a negative review. If you do receive a negative review, address it online calmly and professionally. You'll show potential patrons you're engaged with them and desire for them to have a positive zoo experience.
Responding to reviews also allows potential visitors to decide whether the negative review is valid or not. If you receive several negative reviews related to the same issue, it may signal a pattern that needs to be addressed. Rather than be upset at negative feedback, view online reviews as a way to get firsthand feedback from the audience you're trying to attract.
Marketing Strategies to Boost Zoo Attendance
Developing zoo marketing strategies to encourage engagement and boost attendance can be simple. Your promotions and events' successes and failures help you cultivate a following that can translate into increased zoo attendance. Your zoo leadership team should develop marketing strategies based on your location and goals, as well as your budget. You can also consider some of the best promotion ideas to boost attendance and cultivate a faithful following.
1. Host Adult-Only Events
When parents are chasing their kids around at the zoo, it's difficult for them to really pay attention to the exhibits and activities available. They aren't focused on learning about animals or the conservation efforts the zoo is a part of. For parents with kids, a trip to the zoo is more about helping their children have a good experience.
When you plan an adult-only event, it gives parents the chance to slow down and experience all the zoo has to offer. They can experience the exhibits and take in the information around them. They can also relax and enjoy themselves in a way they can't when they're wrangling kids all day. These events can also attract people who might not normally visit the zoo, such as younger adults and adults without kids.
2. Host Special Events for Kids and Families
Special events are a great way to attract people who may not be as interested in animals. They can also attract returning patrons who might think they've already "seen it all" at the zoo. Special events may include a Halloween trick-or-treating event around the exhibits or a grand opening of a new exhibit.
One event we love is Breakfast With the Animals at the Norfolk Zoo in Norfolk, Virginia. This event is scheduled before the zoo's regular opening hours. Patrons can purchase tickets and receive a bagged breakfast when they arrive at the zoo. Then they can walk around and see the animals eating their breakfasts, too!
3. Create a Membership Pass

Purchasing an annual membership encourages patrons to return to the zoo frequently because it provides their families unlimited access to your organization. Passes are convenient as families can potentially skip ticket lines, and membership gives them an incentive to return frequently.
You can encourage people to purchase memberships by offering members discounts on gift shop goodies or tickets for special events. Memberships will inspire your visitors to take advantage of special food offers, limited edition gift shop items and tickets to special events.
4. Provide Adopt-a-Pet or Animal-Naming Opportunities
Engagement can start long before someone sets foot inside the zoo. Adopt-a-pet or animal naming fundraisers are excellent ways to earn revenue while encouraging people to become engaged with the work at your zoo.
If you have an animal who has just had a baby, offer the chance to submit a name suggestion for a small fee or as an entry to win a zoo membership or other zoo swag. Besides drawing interest in the zoo itself, these opportunities can also drive traffic and interaction on your website and social media pages. Once someone submits an entry, they will continue to check back for updates on the contest and to see what others have contributed.
5. Offer Special Deals and Discount Days
Offering special discounts, such as a military discount or membership swaps with other attractions in your area, is a great way to increase attendance. Besides making zoo attendance more affordable for some, it also shows that your zoo is committed to engaging with your community and making your exhibits accessible to everyone. Consider offering these deals on days when your visitor count tends to be lower to boost visitor numbers.
6. Emphasize Conservation Practices
Zoos are often seen as an activity for kids, but there is much more to a zoo than just childhood entertainment. Emphasizing research and conservation practices is an ideal way to engage more adults in your community and encourage them to become more invested in visits to the zoo.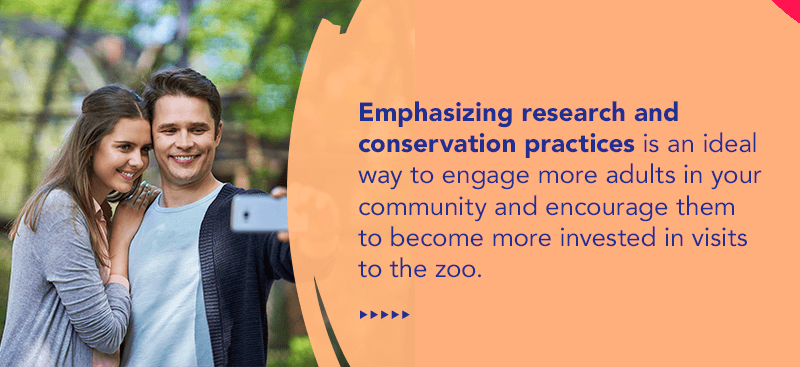 Of course, even kids can appreciate your zoo's efforts to protect the world around us, so create programs and presentations catered to both demographics.
7. Reimagine Your Marketing Campaign
Take some time to look at your past marketing strategies. What's worked in the past? What's failed? Look at what's been successful and evaluate new opportunities to expand and grow your marketing campaigns. Radio, television and billboards are just a few ways to draw more interest in zoo attendance. Social media is a great way to engage patrons with video content or online tours. Virtual reality companies are even offering "edutainment," which incorporates patrons into the video content for a one-of-a-kind experience.
8. Incorporate Unique Zoo Experiences
Another great way to grow zoo attendance is to offer park experiences that are unique to your facilities. You can stand out from local attractions or competitor zoos around or combine experiences into one convenient location. Adding interactive experiences to your zoo such as animal feedings, special behind-the-scenes tours and educational animal encounters are also a great way to boost attendance. You could also create new attractions like an indoor playground or immersive interactive experience that is custom to your zoo.
Social Media Strategies to Raise Awareness
Social media has become an essential marketing tool for any organization or business today. In addition to improving the zoo experience and creating brand loyalty for your guests, social media has been proven to be successful in translating interest into cash flow. Social media also provides valuable advertising space while creating a platform to bring zoo patrons face-to-face with animals through more accessible means.

Ninety percent of people buy from businesses and organizations they follow on social media. While your zoo may not directly make money off this content, it can be strategically developed to appeal to kids and families. Having your guests engage with your zoo's content and learn about various exhibits can also encourage more in-person visits to view what they've seen online.
Follow these additional tips to cultivate an active and engaged online following:
1. Post Consistently and Frequently
Whether you post three times a week or three times a day, you should aim to cultivate relevant, engaging posts related to your efforts at the zoo that elicit a response from your audience. Post about upcoming events, a birth at the zoo, a new book at the gift shop or a Q&A with one of your zookeepers. When you post is just as critical as what you post. Pay attention to the trends you see when you post across various platforms and adjust your schedule accordingly.
2. Enhance Your Zoo Experience
Social media is the perfect way to incorporate art, music, crafts, games and storytelling into the zoo experience. Videos, artistic content and online read-alongs can draw kids and their families into the zoo community long before stepping foot into the zoo.
Zoos can also post live cam videos where people can watch the animals in real-time. This footage even complements an in-person visit, as visitors can have a good view of the animals no matter where they are. It also helps patrons feel more invested if they've already been watching the animals online.
3. Interact With Your Audience Online
Take the time to respond to comments, especially if someone asks a question about the zoo or the topic in the post. Liking other relevant comments also shows that your organization is available and dedicated to interacting with your audience.
You can also encourage your audience to spend more time viewing or reading your content. Incorporating hashtags others can duplicate or making educational content shareable is also a great way to promote your zoo and expand your audience's engagement.
4. Know Your Audience
Zoos often attract a combination of locals and tourists, especially if you're a larger zoo in a big city. By reviewing demographic information and marketing data from people who purchase tickets and interact with your social media pages, you can get an idea of who is most likely to visit your zoo.
It will help to cultivate a presence on the platforms that will most likely target the audience you're hoping to attract to your zoo. If you see your primary audience is local, you can connect with local businesses to promote community engagement or advertise an event that coincides with a local festival. If your audience seems to be primarily tourists, tailor your content to focus on the zoo as a destination or vacation spot.
Add Play Options for Kids
An important target audience you will want to prioritize in marketing your zoo is families with kids. Providing enriching areas for kids to play is a great way to allow their imaginations to run wild and engage fully with their environment.
Playgrounds
Indoor and outdoor playgrounds are sure to attract families to your zoo and entertain them even more during their visit. You can add any variety of fun playgrounds to your zoo, such as the ones Soft Play® offers, including:
Themed playgrounds: Create indoor play spaces that reflect the habitats of animals who call your zoo home with themed playgrounds. Choose from options like an underwater oasis to a wild jungle, where kids can play pretend as the animals they saw on their visit.
Pick & Play™: Cater your themed play spaces for younger kids with Pick & Play™ options from Soft Play. Add fun characters in themes that suit your zoo, from aquatic and jungle to garden and woodland creatures.
Adventure courses: Appeal to families with older kids when you install adventure courses. Visitors can imagine they're traversing jungles with their favorite animals on belayed and non-belayed adventure playgrounds.
Many outdoor playgrounds are also a great opportunity to provide shade for your guests from the heat of the sun.
Outdoor Play Sculptures
If your zoo has a sizable outdoor area you want to take advantage of, add Soft Play outdoor play sculptures. Enhancing your zoo with kid-friendly sculptures will make your space more enjoyable for young visitors and their families. You can also use animal play sculptures to reflect a particular area of your zoo's theming and keep kids engaged during their visit.
At Soft Play, we offer outdoor play structures made of glass fiber reinforced polymer (GFRP) to promote active play for your guests. Our GFRP structures are lightweight, which makes them easy and cost-effective to ship and set up. Our sculptures are also fade-resistant, sturdy and easy to clean and maintain.
By incorporating thoughtful play spaces for your guests, your zoo encourages families to visit again and again because of the lasting novelty these attractions offer. These experiences coupled with zoo memberships can be an incredibly effective strategy for attracting returning guests. You can also draw a wider range of patrons, as you provide entertainment for families with kids of all different ages.
Soft Play's wide array of products provide entertainment and foster opportunities for kids to engage with their environment. Our play equipment will keep families coming back with their children for years to come.
Improve the Zoo Experience With Soft Play
When it comes to growing zoo attendance, it's essential to put your target audience first. Find out what they love and go from there. At Soft Play, we are proud to partner with businesses and organizations to help them improve what they offer to visitors with kids. Soft Play offers everything you'll need to create a dream play space for kids, from surfacing materials to innovative playgrounds and accessories.
Eager to start your project? Our experienced team of designers can help you create a concept that meets your needs and your budget. Browse our selection online or request a quote today!