Branding establishes the backbone of any successful business. It introduces your company to potential consumers and makes previous customers loyal to your company. It sets you apart from every other company that does the same thing you do. It can make or break your business, depending on the quality of your vision and execution.
But where do you learn how to brand your business? With such an important task, it's sometimes difficult to know how and where to begin. If you run a theme park or entertainment center, you need to distinguish yourself from other places available to families in the area.
What makes your park special? How do you convince families that they'll have the best time at your park? With diligent planning and careful application, your brand will work in your favor to build you a loyal customer base.
Read the full article or jump to a specific section:
The Importance of Brand Strategy
Hershey Park offers an excellent example of how to brand your company name. The same fonts and colors found on all the signage match those on beloved Hershey's candy. A Hershey's chocolate bar is recognizable around the world, and they capitalized on that successful brand to give consumers a way to experience their candy in an immersive situation — even though a candy bar has little to do with a theme park.
Their consumers' sense of brand loyalty comes from the combined experience of branding they see online, in the check-out aisle in the grocery store and in Hershey Park itself.
Hershey Park's longstanding success speaks to the importance and power of brand strategy.
Brand strategy involves the long-term marketing support for a company. It goes beyond a one-time promotion or singular logo. This cohesive marketing gives target consumers an image to cling to when associating with a brand. They show their support to brands they trust with their patronage and willingness to speak out to those around them about their attachment to the brand.
Brand strategy also helps differentiate a company from every other business that offers what they do.
Why do patrons support Hershey Park rather than another theme park in the area? It's a brand they recognize, respect and enjoy.
Branding gives your company's offerings a sense of value and authority. When deciding between two products, someone is 75% more likely to purchase the one with the brand they recognize. Consumers feel more comfortable buying from a brand they know and trust, rather than taking a chance on a brand they've never seen before.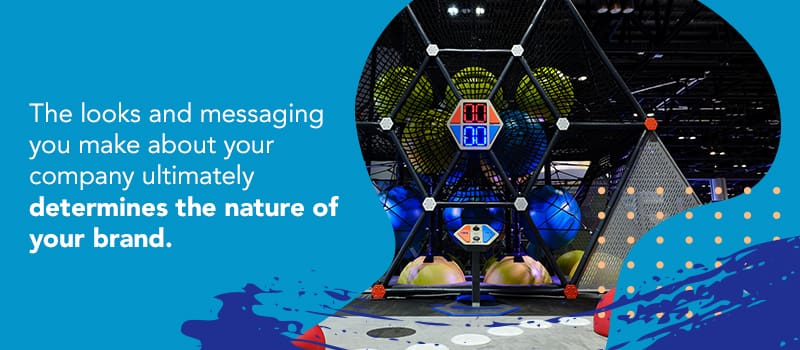 How to Develop Your Own Brand
A brand is more than a clever logo and a catchy slogan. A brand incorporates all of the elements of your company's appearance to craft the message you want your consumers to hear.
Branding your business gives your company a face, but it's more than the appearance and color scheme. Faces speak.
The looks and messaging you make about your company ultimately determines the nature of your brand. Every element works together to build your reputation. A successful brand gives your business credibility and establishes your authority in the market. A poorly managed brand can make your business look incompetent and inferior to the alternatives. Your brand is the consumer's perception of your business, which you shape through your mission and disseminate with your marketing.
Your brand strategy determines how you visually and verbally communicate answers about your company. To learn how to do branding for a new company, you need to determine the following:
How: The methods you choose to share your message. Your "how" could be the language or tone you use in your copy or the mascot you pick to represent your theme park.
Where: The venues you choose to communicate through to reach your consumers. Your "where" could be a Facebook ad or a billboard.
When: The timing of your communication. Your "when" could be the time of day you post or the season you choose for a particular event.
Who: Your audience — the people you send your message to. Your "who" is the people who share your mission and values who will hopefully become advocates for your business.
Consistent, successful branding makes your company credible in the eyes of the consumer. People like buying from reputable and well-known brands, so much so that they're willing to pay a premium from brands they trust. The Rule of Seven dictates that someone needs to come in contact with your branded message seven times within 18 months to consider acting on it.
By building your identity through sharing your mission and integrity, you attract customers for the first time and convert those customers into advocates. Advocates go on to promote your business to their friends and family, doing part of your marketing for you.
Step-by-Step Business Branding
Before you determine your branding, you need to do a bit of business self-discovery. It takes some time and requires some introspection, but it's worth it to create a solid brand.
1. DISCOVER YOUR MISSION
Whether you are developing your brand for the first time or reworking your existing brand to work better with your current mission, you should ask yourself some of these questions to get started:
What is your company's mission?
What is distinguishes you from other companies with similar products or services?
What qualities do you want people to associate with your company?
Why should people care about what you have to say and offer?
Determine why you do what you do before you explain to people what you do.
What inspires you to get out of bed in the morning? Why do you run this company? What do you love about working at a theme park or entertainment center? Do you:
Love watching families connect?
Enjoy giving children a space to explore and learn?
Want to give people a space to relax and enjoy the world around them?
Once you've discovered why you do what you do, you have your mission. Once you've developed that mission, it's time to start preparing the logistics of your brand.
2. DEVELOP THE LOGISTICS
Now that you have your mission, it's time to figure out how you're going to communicate that mission with a brand that will cause people to act. During this phase, you need to:
Do your research: Narrow down your intended audience and learn everything you can about them. Use tools like Google Analytics to get hard data on their search habits. Figure out what they respond well to and what turns them away. Determine their wants and needs so you can know how your brand can fulfill those entities for them.
Find your voice: What tone do you want your messages to have? Do you want your text to be fun and upbeat or authoritative and respectable? Determine your writing style guide, including grammar details, such as whether to use the serial comma, and style choices, such as how you want your voice to sound. When you transmit your messages, you want your audience to feel like they're conversing with the same person every time.
Determine your benchmarks for success: Do you want 500 or 5,000 people to follow your Facebook page? What conversion rate are you looking for on your website? How much growth do you hope for in park attendance? Be specific when choosing goals so you know when and how you achieved them.
3. FIND YOUR BRAND
Once you develop the style guide for your branding identity, it's time to start building your brand's visual guide.
It's time to create:
Your color scheme: Decide if you want bright colors, lighter pastels or classic neutrals.
Your fonts: Pick both a primary font and a secondary font. It's best to avoid having more than two font types on one piece of media, or the final product can look messy. Selecting a font with multiple italic, bold and sizing options will give you more variety while keeping within the same font family.
Your logo: Have both a colored and black and white version of your logo. Have a strong insignia that can stand on its own without your brand name attached to it. The iconic example is the Nike swoosh. Even without the word Nike underneath, you automatically know what the brand is.
Your tagline: Your tagline can change over time, but pick something you plan on using for a while. Consistency will give your audience a chance to become familiar with the slogan.
Your templates: Once you have brand colors and fonts, come up with baseline models for brochures, emails and written materials you plan on sending out. It's easier to stick with your branding when everyone in the company has a template to draw from when they need to create marketing materials.
Your website: Once you figured out all the particulars of your branding, it's time to incorporate all of them into your website. Everything from the copy to the color scheme to the layout needs to work together to convey your brand. It should be intuitive and easy to navigate and maintain the level of professionalism you want to show your audience.
Your social media pages: Your social media should reflect the same style as your website, just adapted to the particular social media platform. While they should all stay under the same umbrella of style, each platform should have unique content so it doesn't feel redundant for your audience to follow multiple pages.
4. MAINTAIN YOUR BRAND
Once you've developed the ins and outs of your business's identity, you need to preserve its integrity. Monitor your brand's performance. See what your audience responds well to, and take note of what they avoid. By staying true to your branding, you give your business a sense of integrity and provide your audience with a consistency they can count on.
Make sure your brand is consistent across all platforms, including:
Social media
Commercials
Print ads
Inside the park
During the audience's experience of your product
Your merchandise
Every time your audience comes in contact with your business, they should see a continuity in your branding.
They should see the same logo, font and color scheme on your social media posts, the signage inside the park and on the tags of the stuffed animal they buy at the gift shop. All of these experiences on the customer's end builds the brand's integrity and gives the audience a clear message and image to associate with your company.
Tips for Better Business Branding
After a certain amount of time, ranging from one month to a year, complete a SWOT Analysis to see how your brand is performing. The acronym SWOT stands for:
Strengths: Take stock in what your brand does well. Identify areas of success. What about your brand is particularly powerful? See what you can do to continue and capitalize on that success.
Weaknesses: Assess where there are gaps in your continuity. Consider where you could have better performance. Take a look at statistics like your ROI to see where you could potentially improve.
Opportunities: Where does your company have a chance to grow? How could you continue improving to bring even better service to your clients?
Threats: Did a new competitor emerge on the market? Are you going to have a particularly harsh winter in the coming season? Is the economy in a downturn, causing entertainment sales to decrease? Once you've identified risks and issues, you can make plans to address them before they occur.
Some best practices for maintaining the business branding of your company include:
Staying consistent.
Building out a content calendar in advance.
Quickly and consistently responding to clients.
Teaching all employees about your branding and expectations.
Staying flexible to adapt to the changing market.
Gaining data and feedback through assessments and surveys.
Turn customers into advocates. Successfully building out and maintaining your brand helps your customers be loyal to your image and voice. Give them a consistent reputation they can rely on and advocate for.
Word-of-mouth brand recommendations are the most trusted source of marketing. When people have a clear sense of a brand, they develop a positive relationship with the brand and will continue returning to and supporting the company.
The Branding Opportunities at Soft Play
The essential part of branding is making sure your customers see the continuity between the park and external branding. If the park itself doesn't give off the same feeling as what they've come to expect through your social media posts and advertisements, they'll feel cheated of the experience they created in their mind.
Soft Play offers customized options, so you can build your park with the same themes you used for your branding. We work with our clients to get them the play options they need to match their branding image. By keeping your park consistent with your branding, you give your clients the experience they anticipated.
Soft Play offers these options to keep your park or entertainment center consistent with your branding:
Flooring carpeting: Keep kids safe with rubber playground flooring and extend your branding to the ground with flooring that makes a statement.
Hanging elements: Adding intriguing elements to the ceiling of your play center adds an unexpected element for kids in the play area and attracts kids outside of the space.
Signage: Whether you need to have instructions by a certain structure or want to add messaging throughout your park, having signs that incorporate your established branding plays an essential role in your entertainment center's continuity.
Entrances: The power of first impressions apply to your park as well as your brand. Wow the people approaching your park with an entrance that makes a statement.
Architectural accents: From childlike, whimsical structures to more artistic vignettes, we can bring a sense of wonder to your space with our custom accents.
Licensed branding: Having licensed figures that children already like and identify with will bring credibility to your brand. Children love seeing cartoon characters come to life, and you can incorporate them into your park. The legalaspect of incorporating different established characters can get tricky, so we handle all the legal negotiations for you.
Discover the Power of Soft Play Today
Whether you're breaking ground on your park for the first time or you want to give your play area an update, incorporating the proper branding throughout the space plays an essential role in maintaining customer loyalty.
If you want to learn more about the ways Soft Play can help you expand and define your brand with custom elements, reach out to us today to better your park tomorrow.
Article edited with the free HTML composer tool. Use this web content editor to make sure your markup is error-free.