Thanks to popular ninja warrior television shows, the idea of ninja warrior gyms have caught on across the nation. Using body weight and balance challenges as a fitness routine is a fun and effective way for athletes to stay in shape. Moreover, fitness experts recommend cross training and varied exercises because they help train muscles and can decrease the risk of injury. Ninja warrior gyms present a wide array of possible activities, which creates a fun and exciting workout opportunity.
With all of these benefits, it's surprising that more of these training courses are not available to customers across the country. After all, the fitness and health club industry generates over $30 billion a year in the United States alone and more than $80 billion worldwide. There is a clear niche to be filled, but knowing exactly how to start can be difficult. A successful gym startup requires an interest in physical fitness as well as a keen business sense, marketing abilities and many other skills. Often, it can be beneficial to find several people with common interests but different traits to fill all of these roles. Still, it can be hard to know what to look for if you've never started a business — or a gym — before.
If you've searched for a similar option in your area and found nothing nearby, it may be time to consider opening a ninja warrior gym on your own. With the growing popularity in an already-established, multi-billion dollar industry, you can provide a vital fitness service to athletes in your local area. Though one possible route may be to consider buying into a ninja gym franchise, you might also consiyou'der building a commercial ninja warrior gym from scratch using an obstacle course business plan.
Read the full article or jump to a specific section:
What Do You Need to Open a Ninja Warrior Gym?
While it's exciting to begin planning your obstacles and talking to customers, there's much more that goes into a successful startup. You'll need all of the following to learn how to open a ninja warrior gym:
1. Business Planning
In some ways, creating a ninja warrior gym business plan looks a lot like other business startups. Clearly, as with any startup, sharp business skills are going to be vital in developing your plan, handling finances and directing resources. If this isn't your background, the U.S. Small Business Administration (SBA) offers many online courses that can help you prepare to launch your business. These courses cover everything from identifying customers and establishing pricing to crime prevention and customer services. Beyond basic training, your business skills side — whether that's yourself or a business partner — will need to handle licensing, tax information and other essential financial planning.
Another critical task is establishing your business structure. While this may initially sound straightforward, deciding whether you will classify as a partnership, a limited liability company (LLC), corporation or cooperative, your business structure will determine what types of taxes you'll pay and other essential legal aspects.
2. Fitness Experts
If you're asking how to open a ninja warrior or parkour gym, you'll likely have at least some interest in fitness. This is extremely important for several reasons. First, having a partner whose primary interest is in constructing the gym experience they've dreamed of will help drive the vision for the gym itself. They will be able to use any previous experiences at other fitness clubs — both what worked for them and what didn't — in designing an ideal experience for customers. This interest in fitness is also key to keeping the fitness experience up to date. Customers interested in a ninja warrior gym thrive off of new experiences and challenges. Finding new and creative ways to challenge your ninja warriors is integral to keeping them engaged and active.
3. Legal Advice
Any small business is going to need appropriate legal counsel in covering everything from licenses to ownership. In addition to this, you will need to seek legal advice on insurance, liability, wording and any other factor that may involve the safety of the athletes. Any solid ninja warrior gym business plan is going to be closely tied to the advice of consultants.
4. Upfront Capital
It can be difficult to assess the possible costs of any startup business because you'll run into some unexpected snags. Moreover, it can be even more challenging to identify exactly how much it costs to build a ninja warrior course since you can interchange so many variables. However, the best place to start is a simple spreadsheet to add your operating expenses and capital expenditures. Your costs will cover the cost of market research, any necessary travel, employee wages, legal consultants and advertising. Some of these operating expenses may be tax deductible, but it is essential to discuss with a certified public accountant (CPA) or another tax professional before making any decisions based on those assumptions.
Your capital expenditures, on the other hand, are the physical items you'll need to purchase. This includes discussing possible equipment, which is where you'll likely spend most of your initial capital expenses. However, this will also include furniture, computer systems, security alarms and just about any other physical object you may need.
5. Facility
The last major expense to examine — one that will vary drastically depending on your area — is your facility. Discuss your needs with a commercial real estate company in your area to get a better sense of possible renting or purchasing costs. How you obtain the rights to the building will factor into how you calculate it as a cost. For instance, if you buy a facility outright, this will be considered a capital expense. Leasing is a little more complicated, as a capital lease — or an owner's lease— provides certain privileges and costs that a basic operating lease — in which you have no ownership rights at all — will not cover. Leasing laws vary by state, so it is essential to check your local regulations before deciding which lease will be right for you.
Top Considerations for Opening a Ninja Warrior Gym
Before you get started on your business strategy, you'll need to make some important decisions regarding your gym. Here are just a few of those decisions:
Ongoing Expenses
Obviously, you'll need to pay to keep the lights on. But there's a range of other costs you need to consider before beginning your project. Some important expenses include:
Official Ninja Warrior training
Continuing education for coaches and staff
Insurance
Payroll
Advertising
Pricing and Memberships
Perhaps the most important consideration you'll need to make is determining how to bring in enough money to turn a profit. Many niche gyms and fitness clubs charge on a per-class or contract basis and scale their pricing accordingly. Here are a few methods you could use:
Charge per class: This system is best when combined with other plans, like passes or contracts. If you price competitively enough, you could attract a good amount of drop-ins who become regulars.
Class passes: Clients pay for a certain number of classes in advance and check in using an app or punch card.
Memberships: You can base each membership tier on the number of classes clients may attend per week, available amenities, any food or drink discounts, etc. Pricing could also depend on the length of the contract the client chooses.
Discounts: You might also want to set discounted rates for clients who are students, service members, teachers or first responders.
Gym Name
Your name is an important part of your gym's brand. You'll want a name that stands out but still sounds inviting to fitness newbies. Before you set your heart on a name, make sure it's legally available. Check your state's business records, social media platforms and trademark records at both the state and federal levels. Checking whether your name is available for a web domain is an important step, too.
Once you've decided on a name, you'll need to register it with the appropriate authorities so you can reserve it.
Amenities and Other Equipment
Will your gym be strictly about the obstacle courses, or would you like to provide other services for your clients? Some bonus services and amenities you could offer include:
Childcare for clients who are parents
Lifting and cardio equipment
Nutrition counseling
Personal training
Showers
Saunas
Juice bar
Keep in mind these services and amenities will add to your startup costs or take up extra space in your gym. You could easily work around the expenses by restricting certain services to specific membership tiers or charging an additional fee.
Steps to Opening a Ninja Warrior Gym
Although it's nice to know what information to look for, it can be difficult to put everything in order. Here are four main steps to get you on the right track:
1. Estimate Costs
While you can't have all of this information upfront, knowing your basic limitations will be integral to forming a solid plan moving forward.
2. Conduct Market Research
Conducting market research is essential to any successful startup. It will be one of the most important steps to start a ninja warrior gym. The most obvious reason is that this will help you better understand your clientele, allowing you to personalize your gym to their needs. For instance, if your research indicates that many interested customers consider themselves to be moderate-to-highly active already, you will likely want to tailor your initial planning to accommodate this group. However, if your research indicates high levels of interest from novices who are interested because more traditional gyms don't excite them or they're inspired by the ninja warriors they've seen on television, you'll need to plan for more entry-level challenges and enticements to keep them committed.

Market research is also a valuable time to establish what is and isn't working with competitors, allowing you to gain the benefit of their experience. This is where you'll develop your niche. Are there limited fitness club options in general in your area? If there are other options, what do people like most about them? What do people like least? By answering these questions, you'll be able to provide a fitness experience that is unique to your area while still incorporating what people already value in their current options.
Though the concept of market research can sound mundane compared to other aspects of planning, it can also be an excellent tool for generating community awareness and excitement in your gym. Host a fitness event, like a fun run or an obstacle course fundraiser, where you collect information from participants. This way, you can learn about their expectations as well as get the community excited about health and the possibility of a new fitness opportunity for your ninja warrior gym. You'll be building clientele before you even officially establish your business, and you'll make valuable connections to potential customers in your area.

3. Scout Location
One key to starting a ninja warrior gym is recognizing how vital your facility is to this process. Finding a good location for your ninja warrior gym is also essential to establishing and growing your business. First, before you spend any time looking at potential properties, make sure they meet your criteria. Will the building need any major construction to house belay systems or rock walls? What are the surrounding businesses, and will the physical address keep customers from visiting? Will the building be able to meet your power and technology needs? These are all critical questions you should consider when looking at potential properties. While some people may suggest these items are secondary, it's important to remember that you can always change the basic appearance of the inside of the building, but it's much more difficult to change the physical structure and impossible to change the location.
Once you've investigated these priorities, you'll want to consider the layout inside the building. You'll likely want a facility that is tall enough for vertical equipment so you can offer new challenges and fit more obstacles into a smaller area. If the location is otherwise perfect but doesn't meet your ideal height requirements, you could consider an indoor low ropes course and, if possible, outdoor high ropes obstacles.
4. Find Capital
As previously mentioned, building a ninja warrior gym might cost tens of thousands of dollars to start. While it may seem intuitive to find the financing up front, you'll need a solid business plan before you can start seriously looking to cover the costs. This can seem like an intimidating amount — enough to scare some people away from opening a business. However, because fitness clubs are such an established industry and carry so much potential for profit, you might be able to find investors who are willing to provide the capital to start your business. They may require a stake in the company or other business interests, and you will need to provide a clear business plan that specifically addresses how to open a ninja warrior gym.
How Should I Purchase Equipment for a Ninja Warrior Gym?
Purchasing equipment is one of the most important investments you'll make for your gym. Consider your market research and your vision for your gym as you decide what challenges to lay out for your ninja warriors.
Building options and a chance to grow is essential to any gym's layout. In traditional gyms, owners provide a variety of machines with adjustable weights or speeds that change the strength or endurance requirements. You'll also need to ensure that your warriors can continually attempt new challenges.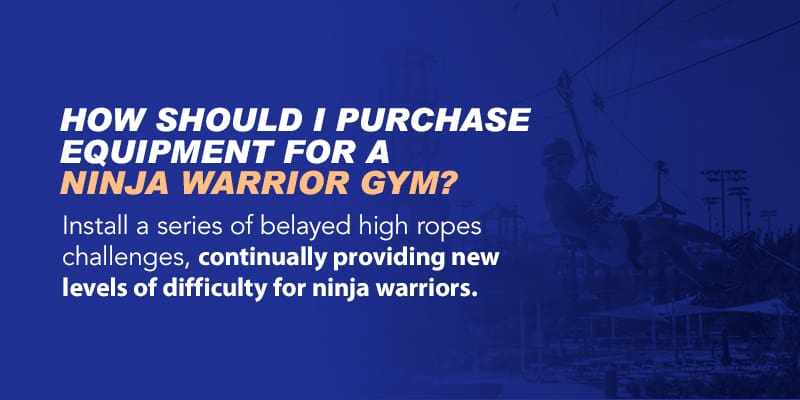 One great approach to this problem is to provide novice, intermediate and advanced tracks throughout the gym. This way, as your ninja warriors become stronger and more fit through your obstacles, they can move on to more difficult obstacles.
Another consideration in purchasing equipment is to install a series of belayed high ropes challenges, or even options that don't require a harness. These adventurous obstacles, such as climbing walls and rope nets, can be custom designed for ninja warriors of all age and skill levels. These systems are also imperative for some of the ninja warrior course features made popular by the television show, such as the salmon ladder, the spider climb and the hang climb.
Include Appropriate Equipment for Kids
If you want to attract families to your gym, it's important to provide equipment for kids of all ages. This way, you keep the experience inclusive. Large indoor obstacle courses are great for teaching kids the skills they'll need to advance to the more difficult Ninja Warrior courses later, but medium-sized and small contained playgrounds are equally effective for gyms with limited space or budgets. You could also incorporate fun foam sculptures as obstacles to keep things visually interesting.
It might also be a good idea to offer a separate play area for toddlers and other small kids, especially if you plan to offer childcare services to clients who are parents. Toddler-sized play equipment that will keep kids both mentally and physically engaged is key, whether you purchase one 3-D structure or plan to pair up a series of paneled structures.
Tips for Growing Your Ninja Gym
Once you've established your gym and found a few committed members, you'll need to plan the best methods of outreach to keep your business growing. One of the most important things to remember is that people may be interested in the idea of a ninja warrior gym or want to give it a try, but they aren't sure of the best time or way to get started. Keeping this in mind, fostering community, reducing potential intimidation, and getting non-members interacting with equipment is essential to your outreach.
1. Plan Events
One of the most significant ways to promote your new gym is to host events. Make your own local ninja warrior competition to raise awareness and encourage people to give the workouts a try. Much like a 5k or other community fitness event, you could donate the profits to a charity or cause while introducing your ninja warrior workouts to people willing to try.
Another event that could generate excitement or customer traffic is organizing small camps for kids and teens. This is an especially popular idea throughout the summer when kids are out of school and can spend an entire week learning the routines.
2. Offer Beginner and Advanced Classes
While you may get the occasional super athlete who is prepping for an appearance on the popular television show, the likelihood is that the majority of your customers will be looking for a fun and challenging full-body workout. Because of this, it is essential to offer classes and group training options at various points throughout the day. This encourages participation and drives business through several avenues.
One of the biggest benefits is that you'll have a great starting point to bring in novice athletes who are interested in using the gym but intimidated by the idea. Even for traditional fitness centers, gym intimidation is a difficult challenge to overcome. As you can imagine, these fears can become even more prevalent when switching out conventional dumbbells and stationary bikes for climbing walls and uncommon obstacles. Introductory classes can be a welcome relief to customers who want to get started but aren't sure how to set up an effective workout.
Another benefit of classes is that they help build a sense of team. Having a positive social scene is essential for enhancing your customers' experience and happiness, but it's also good for business. This environment fosters a community within your gym, encouraging your customers to come back for social benefits as well as the workout. These groups can provide both support and healthy competition, making for a more engaging workout. When they know that someone is expecting them to show up and workout, it makes the decision to cancel — especially early in the morning or after a long day at work — that much more difficult for them.
Moreover, when your customers see this as a part of their social life, they'll be more likely to invite others to participate in the fun. Finally, classes are a great way to outline particular challenges for your ninja warriors. While some customers may be content with an individual daily workout routine, many will enjoy having a fitness expert or experienced participant lay out creative or clever obstacles that they wouldn't have initially considered. This provides a fun framework where your members can safely expand their repertoire of workout routines while still under the supervision of a qualified staff member.
3. Offer School Field Trips
Especially if your gym has a separate area for kids, offering field trips or a free challenge at a local school can be an excellent way to find new customers. Framed through an opportunity to promote fitness as well as the benefits of facing and overcoming challenges, a short, interactive ninja warrior lesson with a focus on teamwork is a great educational experience local schools will welcome. Parents are always looking for new, challenging ways to get kids up and moving, so hearing their kids come home excited about a fitness opportunity is an excellent way to attract kids and adults. A great extension to this idea is to offer an after school program for local elementary and middle schools. Since many parents work later than the end of the school day, having a program where kids can be active and have fun in creative ways is an enticing offer for parents. It's great for the parents and kids, and it's also an excellent opportunity to establish a connection with the kids, who will likely become future customers themselves.
4. Sell Healthy Food and Drinks
Another way to foster an excellent social environment in your gym is to provide a place where athletes can relax and grab a nutritious snack after a workout. A juice bar or concession area encourages your customers to stay, fostering good conversations and connections between members. Even if you do not generate much revenue directly from food sales, you'll still be making your club more than a collection of climbing walls and balance obstacles. Just be sure to look into the licensing and health requirements needed to add this option to your plan.
5. Offer Equipment for All Ages
Adding areas appropriate for different age ranges is key to providing a facility that is attractive to the whole family. This allows a family with teenagers and young kids to bring both to the gym – and the kids can enjoy their own indoor playground or ninja warrior "themed" play area appropriate for their age range. Take it a step further, and offer a ropes or adventure course that helps make your venue even more appealing while also offering a unique spin on typical ninja warrior equipment!
Start Planning With Soft Play®
If you're starting your market research and cost analysis phases, it's essential to have an idea of what challenges would be available for your gym and how much they would cost. That way, you could begin building your pitch to potential investors, incorporating pricing questions into your market research and otherwise writing your ninja warrior course business plan.
Consider the wide-ranging options available through Soft Play, which provides customizable ropes course obstacles, playground equipment and other play adventures for obstacle course business needs. Request a quote for tailored pricing and discuss your needs with a representative. In addition to being a ninja warrior course supplier, we also provide field service and construction services, helping to ensure that the equipment is installed correctly so you can focus on better serving your ninja warriors.