Designing a playground for all ages, including toddlers and elementary-aged kids, makes a playground more inclusive, creates more interest in the indoor play space and makes your playground ideas more marketable. Parents with kids of different ages will appreciate having a space where all kids can have fun. If your play area design can capture the interest of both older and younger kids, your client is more likely to get multiple visits.
Here, you'll learn how to design an indoor playground for all ages to maximize the impact for your client and their audience.
Read the full article or jump to a specific section:
How to Design an Indoor Play Area for All Ages
Check out these simple steps for designing commercial play areas:
1. Know Your Audience
Start by examining who will be at the playground. If you want to appeal to everyone from toddlers to preteens, your best option is to create zones.
Toddlers are the most vulnerable group because kids under the age of 5 are still working on gross motor skills and balance. They can fall over more easily compared to older kids. Moreover, kids of school age may still be learning to share spaces, and they might not notice smaller toddlers in their space. Designated places for each age level keep everyone happy and having fun.
Begin with toddler playground design. Choose the space and the play equipment you want. It'll be easier to design the surrounding area from the toddler space. Pieces from the Sprouts line have smooth lines and bright colors, appealing to younger kids. With plenty of room for caregivers to assist, these pieces help toddlers work on balance and gross motor skills.
By using similar colors as the rest of the play area, you can create a cohesive look while giving everyone their own space. A small fence around the toddler area can prevent wandering and enhance the playground aesthetic.
For older kids, indoor playground structures, such as the Kid's Clubhouse, provide multiple levels of fun and accessible play for different school-age kids. Inclusive designs allow for unlimited fun and fit small spaces, which is an ideal solution for indoor areas. Soft Play® themed playgrounds can also be a solution for playgrounds with multiple ages playing at once.
You can create an entire play structure around a theme and choose play equipment that is right for both toddlers and older kids, so no one feels left out.
2. Evaluate the Space
Think about the size of the commercial indoor play area you're working with. Are the ceilings high enough to provide space for active playing and sports that require tossing a ball in the air? You may also want to section off enough space around the play area for parents and guardians to sit, and allocate some space for food areas and restrooms.
After figuring out how much space you have to work with and how you want to use it, consider the placement of the main structural formations of your indoor playground design ideas. Start with the centerpiece formations that will anchor the playground and fill in the play area from there.

3. Choose a Theme
Once you've got the basic layout of a commercial play area, consider the theme and colors you want to incorporate into your children's indoor play area design. Depending on the location of the playground, a fitting theme like a wild safari or under the sea could suit your design perfectly. The colors you select can also match the play area's theme to make your design pop.
Regardless of which theme and colors you choose, make sure your play area design stays consistent with the company's brand. Ensure you stay on brand by coordinating your design's color scheme and style with the company colors. Draw in some of the company's themes by including its logo and other notable company symbols, mascots or products within your design plans.
4. Add Some Toys
Adding widely appealing playground toys like swings, trampolines, tunnels and climbing structures ensures kids of all ages love playing in the play area you design. You can also consider incorporating musical equipment and games to engage kids with the playground structures.
By featuring toys and other interactive elements for kids to enjoy, you can make your commercial play area memorable and a place families want to return to over and over again.
Playground Equipment by Age
Your playground can satisfy each age group's needs with the right equipment. Keep in mind each age group's learning developments when designing an inclusive playground.
Toddlers and Younger
Toddlers and kids ages 5 and under explore the world and learn new things every day. Playground users in this age group need full-body activities — like walking, dancing, climbing and rolling — to strengthen their motor skills. Play also allows kids to build their social skills, teaching themselves emotion regulation.
The following list explains the type of play that toddler-influenced playground equipment should satisfy:
Solitary play: Kids up to 2 years old enjoy playing by themselves and learning independently.
Onlooker behavior: Around 2 years old, kids begin watching peers but don't actively engage in cooperative play.
Parallel play: Shortly after onlooker behavior, kids begin growing confidence and curiosity, now playing alongside their peers.
Associate play: Kids from 3 to 4 years old enjoy playing side-by-side with their peers, but they may not actively engage in cooperative play. For example, they may perform the same activities as another playground user, but not talk to them.
Cooperative play: Around 4 years old, kids begin developing their social skills by actively playing with peers.
Soft Play offers a number of toddler-appropriate playground equipment options. We offer independent play systems, where kids in the earlier stages of play can play independently. Also, our Sprouts infant playground equipment allows infants to climb, roll, spin and more, strengthening their gross motor skills.
School-Age Kids
School-age kids, ranging from 6 to 12 years old, have learned how to play with their peers and established their fine and gross motor skills. School-age kids are actively:
Refining fine and gross motor skills
Building coordination and balance
Strengthening their muscles
Practicing social skills
Learning through imaginative play
Play is essential to developing foundational life skills. However, school-age kids are exposed to life-changing factors like a more hurried lifestyle, changes in family structure and more attention spent on academics. For a better life balance, researchers and pediatricians advocate for more playtime.
Tapping into kids' natural sense of adventure, Soft Play offers SKYCOURSE non-belayed high adventure courses. Kids receive the thrill of a high-ropes course and an imaginative sense of adventure — all in a contained environment that doesn't require a harness.
Teenagers and Young Adults
Teenagers and young adults spend an average of 7 hours and 22 minutes in front of a screen every day. This means, compared to kids, teenagers and young adults are far less physically active. Additionally, teens report having high levels of stress because of their daily routines.
Teenagers and young adults benefit from play that allows them to:
Break free of social-anxiety-inducing environments and improve social skills
Step back from screens and engage in hands-on play
Engage in positive stress coping skills.
Parks and recreational facilities, such as inclusive playgrounds, can help teenagers increase physical activity — which is linked to lowered stress levels, strengthened interpersonal relationships and improved mental health.
Teenagers and young adults enjoy the mind-activating structure of Soft Play's Hive obstacle challenge course. This is a one-on-one course that challenges participants to climb and navigate an arena to score as many points as possible.
Adults
Adults need recuperative play — play that is fun, rejuvenating and promotes laughter. They face similar challenges as teenagers and young adults and need to improve physical activity levels and lower stress levels.
Adult play is important because it allows adults to:
Connect with their kids: Inclusive playgrounds are open environments where parents can play with their kids for better parent-child relationships.
Improve social connections: Adults are continuing to refine the social skills learned as kids.
Heal emotional wounds: When you play with your peers, your brain is engaging in the same patterns that positively shape kids' brains. These positive patterns lead to positive emotional changes in adults.
A challenging course that adults will love is Soft Play's belayed high ropes adventure course. School-age kids, teenagers, and young adults, and adults can all developmentally benefit from the thrill of this high ropes course.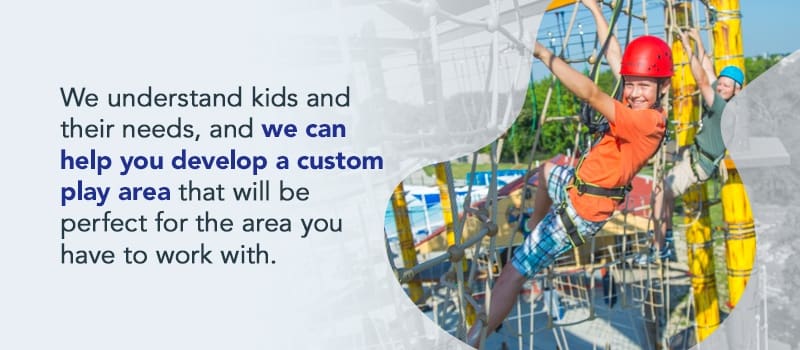 How Soft Play Can Help
Trying to keep all kids happy can be a tall order, but Soft Play can help. With a free design consultation, you can get personalized advice on how to make an indoor playground for all ages within your client's property, budget and needs.
We have already helped build some incredible playgrounds for museums, places of worship, daycares, schools and more. We understand kids and their needs, and we can help you develop a custom play area that will be perfect for the area you have to work with.
We've developed playgrounds of all sizes, from large structures to smaller ones, finding creative ways for organizations to fit innovative play structures into their spaces. We can truly work within your project's boundaries and budget to bring kids to your client's business or organization.
The Benefits of Working With Soft Play
Once you've designed the perfect commercial indoor play area for all ages, you'll want to make sure your plans become a reality. When you work with Soft Play, you can have confidence you're working with the most experienced play area provider in the industry. As the oldest contained provider in the world, Soft Play has the knowledge and skills to bring your play area designs to life.
Here are the top five benefits of working with Soft Play:
Customization: Each piece of Soft Play equipment can be tailored for specific age groups and customized to match your designs.
Support: The highly qualified Soft Play sales representatives are available to walk customers through the design-to-installation process and offer advice regarding age-appropriateness, theme selections and more.
Manufacturing: When you work with Soft Play, you can know you'll get top-quality playground structures and equipment delivered on time from our state-of-the-art facility.
Service: Soft Play offers customer service professionals to assist with any questions you may have about design, installation or maintenance.
Installation: The independent installation professionals used by Soft Play are personally trained, certified and periodically tested to ensure proper installation of all play area pieces.
Work With Soft Play to Bring Your Play Area Design to Life
At Soft Play, our representatives and vast selection of play equipment can help you create the personalized playground you want and need. Contact a Soft Play representative today to start talking about your needs and how our reliable and durable play solutions can help you appeal to kids of all ages, keeping families coming back to your client's playground time and again.