As a business owner, you focus your energy on keeping up with consumer needs and industry trends. You work to make your establishment as welcoming as possible to draw and retain customers and build a positive reputation. One way to amplify this hard work that you may not have considered is investing in innovative indoor playground equipment.
Recent trends in indoor playgrounds have made it simple and worthwhile for businesses to seamlessly incorporate new equipment into their facilities. Businesses with varying sizes, locations, industries, and customer bases can benefit from learning about recent playground trends. The following are some innovations you can consider for your establishment.
Innovative Playground Design
Many current playground trends revolve around new and different types of playground equipment. Each design type answers a different modern dilemma — from decreased activity opportunities to increased environmental concerns.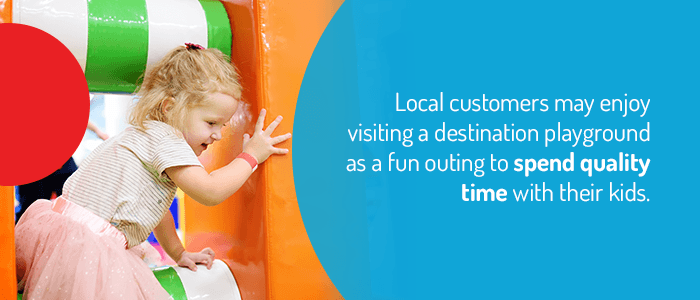 1. Destination Playgrounds
According to the American Academy of Pediatrics (AAP), only 20% of families live within half a mile of a park. Because of this, many families go out of their way when they want to find a playground. Indoor playgrounds can be even harder to find – making them ideal attractions that are worth driving to, especially when your business may offer other services or shopping for the whole family.
As a business owner, building a destination playground could generate traffic from outside your usual customer base. It could contribute to both an influx of customers and an increased reach and brand awareness beyond your community.
A destination playground uses tall towers, large slides and unique, local themes to set itself apart. Destination equipment is typically larger than standard playgrounds, which means it can accommodate more guests and may encourage longer visits.
Local customers may enjoy visiting a destination playground as a fun outing to spend quality time with their kids. Those vacationing in the area may also add a destination playground as a stop on their itinerary. Either way, destination equipment attracts families from within and beyond the community.
A few of the businesses using destination equipment include:
Mini golf courses
Arcades
Kids' theme parks
These facilities and others experience some of the following benefits from destination playgrounds.
High-volume occupancy: Some destination playgrounds can hold up to 300 kids at once. This occupancy capacity is excellent for businesses that serve large crowds. Large equipment may also encourage bigger groups, which could increase your foot traffic.
Extended exploration time: Larger playgrounds take more time to explore. Parents may stay for longer periods while their kids explore, which expands your window for sales and impressions.
Increased customer reach:  Parents are willing to travel to destination playgrounds, your equipment may attract customers from outside your typical range. You can expand your reach without the need for additional advertising or promotion.
Configuration options: Though destination playgrounds are big, you can customize their layout to fit your establishment. There's no need to add on or renovate your space when you can create a convenient, custom configuration.
2. Themed Playgrounds
Modern pastimes like video games, television and tablet games unintentionally encourage kids to be passive and to consume other people's creativity, as opposed to coming up with their own creative ideas. This issue is worth taking seriously, because the AAP lists creative, imaginary play as a cornerstone to an adolescent's development and well-being. Themed indoor playgrounds that create an entire environment or world help kids tap into their own creativity.
Themed playgrounds hold plenty of potential for business owners. You can customize your equipment to match a relevant theme within your business, or you can select a fun theme to stand on its own. Themed playground equipment stands out compared to standard playgrounds, which adds a unique and notable touch to your establishment.
All the equipment in a themed playground design ties back to a central concept. A theme could range from ocean life to candy, based on what makes sense for your business. For example, a science museum may install a space-themed playground, and a church may choose Noah's ark theme. Themed playgrounds can be subtle with brand-specific colors, or they can feature detailed custom equipment pieces. Your imagination is the only limit.
Perhaps the most significant consumer appeal of a themed playground is its unique design. Kids find novelty in features that are unlike any other playground they've seen. In addition to choosing a theme that relates to your business, you can also tap into kids' passions. Whether it's dinosaurs, cars, animals or more, themed playgrounds offer endless, exciting options.
A few kinds of businesses that tend to use themed equipment include:
Within these businesses and many others, themed playground equipment offers several benefits.
Photo opportunities: A beautiful playground makes a unique background for photos. When parents share photos of their visit on social media, they are spreading the word about your business and equipment. This sharing acts as free, unsolicited marketing.
Brand recognition and reinforcement: Themed playgrounds can reinforce your brand's colors, products or services. Increasing your brand recognition is a smart way to establish an authoritative presence in your community and industry.
Cohesive design: If you're worried a playground may look out of place on your property, themed equipment is an excellent option. You can tailor your playground to match your business and reap the equipment's benefits without disrupting your interior design.
Event opportunities: If your business currently offers kids' birthday party packages, a themed playground can increase your desirability as an event location. Kids will be eager to play on the equipment at their party, and parents will love the freedom to sit back and chat.
3. Adventure Playgrounds
Getting enough exercise can be a challenge for today's kids. The AAP reports a typical preschooler watches up to four and a half hours of television each day. Adventure playgrounds are on the rise to help parents provide fun and active opportunities for their kids.
An adventure playground incorporates unique features that encourage kids to explore and step outside their comfort zone. Investing in this type of equipment for your business may attract parents who want to help their kids expend energy through play. It's mutually beneficial for you, the kids and their parents.
Adventure playground equipment channels the thrill of a ropes course without the need for harnesses or safety gear. This equipment has many configurations within two common formats.
Non-belayed adventure courses: A non-belayed high adventure course provides similar obstacles to a belayed ropes course in an environment that does not require safety gear. Kids can enjoy climbing and navigating an exciting structure without extra supervision or help.
Interactive challenge courses: An interactive challenge course includes equipment designed to challenge kids' bodies and imaginations. Kids can work on their puzzle-solving strategy and dexterity in a challenge course that welcomes repetition and fun.
Parents appreciate adventure playgrounds that keep their kids active. Many adventure courses offer equipment and challenges that aren't features of typical playgrounds. It encourages kids to play for extended periods, which may increase parent interaction with your business.
Another remarkable benefit of adventure playgrounds is the impact they can have on kids' skill-building. According to the AAP, physical play allows kids to take relatively small risks in a safe environment. Doing so helps them build and refine the skills needed for emotional balance, emotional intelligence, communication, and negotiation. An adventure playground is the perfect setting for kids to work on these skills in a fun way.
Some examples of businesses that use adventure playground equipment include:
These businesses and more enjoy the advantages an adventure playground offers.
Ease of operation: Adventure playgrounds offer the excitement of a ropes course with the convenience of a playground. You won't have to hire or train additional staff to manage safety gear for the kids. It is beneficial for attracting more customers, as well as keeping your budget low.
Family appeal: An adventure playground is ideal for attracting families to your business. If you're looking to expand your services into the family demographic or improve your current interaction with families, this equipment could provide the boost you need.
Customization options: You can choose between non-belayed or challenge course options and customize your setup to fit your business. Adventure playground equipment is adjustable to suit your preferences and space availability, which adds convenience to the selection and installation processes.
Benefits of Indoor Playground Equipment for Your Business
Indoor playground equipment can be a profitable asset for your business. Consider some of the overall and economic benefits playground equipment offers.
Return on investment: Adding a playground to your space attracts more patrons to your business. A playground could encourage current customers to visit more often, or it might draw in families that may not frequent your establishment otherwise. The more individuals make purchases or interact with your business, the more quickly you can recoup the costs of your investments.
Added customer experiences: According to Forbes, today's customers are looking for experiences when they interact with companies. A unique and high-quality offering like an innovative playground can satisfy this customer desire, in addition to distinguishing you from your competition. A play experience may also help your patrons develop a positive brand association with your company, which could elevate their view of your products and services over that of a competitor.
Longevity: A playground carries distinct durability compared to some of the other customer generation measures your business may take. Unlike a marketing campaign or sale, a playground lasts for years. You don't have to rethink its design each year. It stands ready for people to use and enjoy at any time. A high-quality, innovative playground will last a long time with minimal maintenance, so you can focus your energy where it is most necessary while profiting from a simple, repeatable attraction. A playground could also help you attract and retain customers, which makes it a valuable springboard for growth.
Uniqueness: Standing out within your industry is no simple task. Forbes suggests one way to set yourself apart from others is to incorporate something new into your business. Adding a playground to the premises is a creative way to offer something different that you know your customer base will appreciate — especially if your competitors don't typically have playgrounds. For example, a car dealership with a car-themed playground could allow parents to shop in peace while their kids are busy playing. Installing a playground communicates your investment and care for customers with families. Whether you're sending a message that you care about keeping kids active or protecting the environment, your customers will remember your effort.
Even facilities that don't focus on sales or revenue could benefit from creative playgrounds. Churches, libraries and many other organizations can use playgrounds to spread joy and expand their reach within a community. No matter the organization, selecting a unique playground type with your business' goals and demographics in mind can help you tailor your addition to be as beneficial as possible.
Bring Your Innovative Playground Ideas to Life With Soft Play®
Whether you're looking to boost your business with a custom themed playground or you want to bolster your offerings with an adventure playground, Soft Play can bring your ideas to life. We have more than 30 years of experience designing safe, high-quality playgrounds. When you work with us, we'll navigate the entire playground process with you — from design to installation.
Soft Play offers free design consultations to help you develop your plan with expert advice. With a few essential details, we can generate a playground design and quote in as little as two weeks. As a baseline, all our designs meet the U.S. ASTM standards for safety and compliance. To get started with your innovative playground, browse our designs and contact us today!