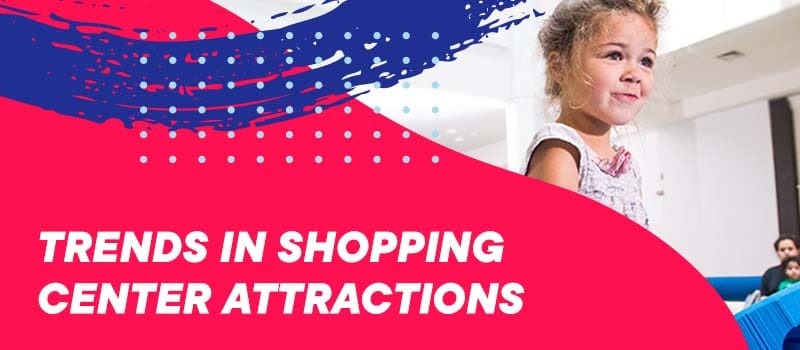 Have you noticed that shopping malls have started to get a little more…exciting? If you have, it's not your imagination. And you're not the only one who's noticed.
Shopping malls have recently been experiencing a trend towards adding handfuls of extra attractions that usually don't have a lot to do with shopping, stores or malls at all.
Read the full article or jump to a specific section:
Why Shopping Centers Incorporate Entertainment Centers
Incorporating attractions into a shopping center isn't an unheard-of idea, but it's begun to gain a lot more momentum lately. While that might seem like a random trend that's popped up out of nowhere, there's a good bit of logic that explains why this is happening and why it's happening now.
The Rise of E-Commerce
While it would be easy to blame any downward sales trends solely on people's tighter budgets, in reality, it's a little bit more complicated than that. There are other contributing factors as well, and the biggest one is the rise of e-commerce.
It's no secret that online shopping is a huge trend that's grown by leaps and bounds in the past several years. Online retail giants like Amazon are making it easier to have goods delivered right to your door quickly.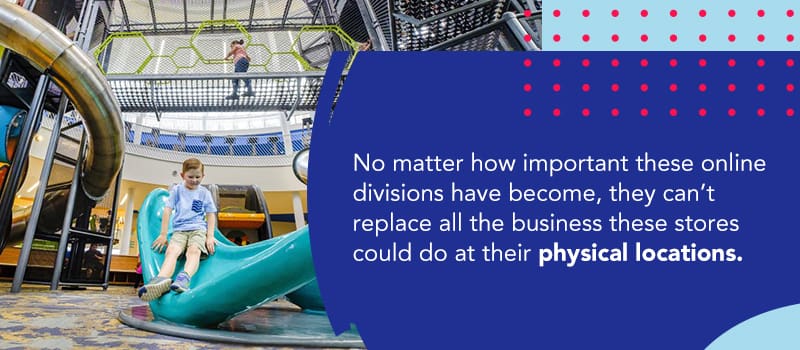 Even for traditional brick-and-mortar retailers, their online sales are becoming a huge priority as they strive to insert themselves into the growing world of online shopping. But no matter how important these online divisions have become, they can't replace all the business these stores could do at their physical locations. People still want to have interactive and social experiences – something that is hard to replicate fully online.
Millennial Shopping Trends
The final element that was and still is truly hurting many brick-and-mortar stores, particularly chain department stores such as are often found in malls and shopping centers, is the direction of shopping trends among millennials.
Millennials often have smaller comparative budgets than their parents and grandparents did at their ages. Their jobs are statistically lower paying, and much of what income they do have goes towards paying off student loans.
Because their budgets are stretched so thin, many millennials are choosy about how they spend their money. This makes them less apt to simply browse a shopping mall for fun, buying something they like on impulse.
This presents a real problem for many stores. Millennials are currently the largest generation in the US according to PEW research, and while not all of them are at an age to be doing much shopping, this still represents an enormous market that isn't coming into the stores regularly.
The Enhanced Shopping Mall Experience
To address these potential factors affecting shopping mall attendance, the concept of retail-tainment was born. This is the idea that entertainment centers can be combined with the traditional shopping experience. Through this combination, retail centers are able to offer something that shoppers can't get if they did all their shopping online.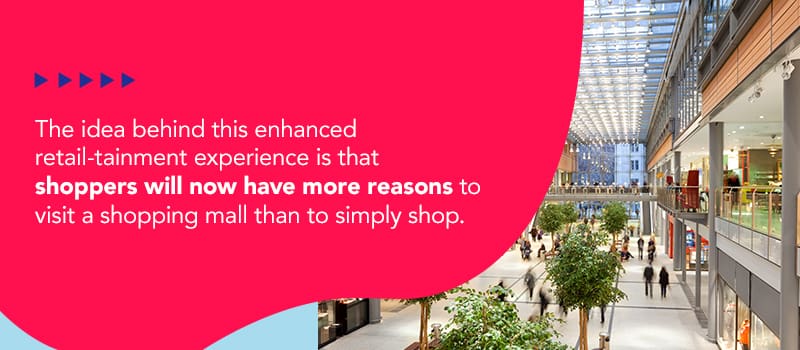 The idea behind this enhanced retail-tainment experience is that shoppers will now have more reasons to visit a shopping mall than to simply shop. They might go for the stores, or they might go for the entertainment. But the proximity of the two is beneficial to both. Visitors to either the stores or the entertainment centers are more likely to visit the other while they're already there.
So What Do These Shopping Mall Attractions Look Like?
The following is a list of just a few of the various attractions that have started to appear in malls across the country.
1. Indoor Playgrounds and Interactive Play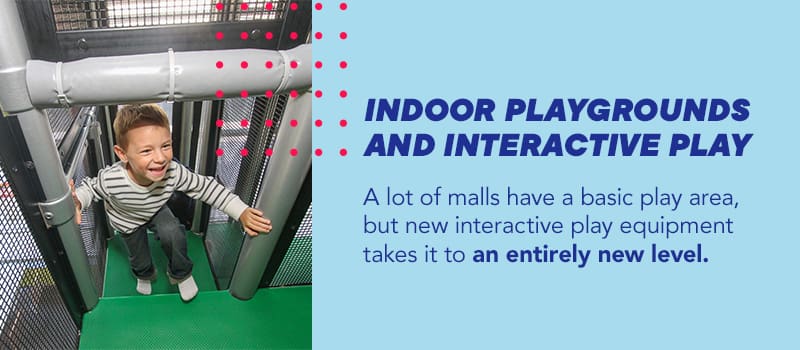 A lot of malls have a basic play area, but new interactive play equipment takes it to an entirely new level. They might include climbing structures, slides and stairs, and all kinds of interactive sets for kids to play on and explore.
One of the newest attractions that provides a unique play experience in a small space is STOMP. This interactive play experience is ideal for shopping mall areas that provide fun movement for kids with multiplayer competition.
Another great option is Concerto. This playground music equipment can be placed in almost any location and provides inclusive play for all abilities while providing the joy and benefits of playing music.
Indoor playgrounds and play are a great way to attract shoppers who are looking for play areas protected from the elements and a space to socialize with other families. With these types of indoor play areas and equipment, kids will still have a park they can play in even if the weather isn't ideal. They'll love having the opportunity to burn off some energy in a fun, innovative environment.
One of the reasons these indoor playgrounds work so well in the mall setting is that children who are bored by shopping can enjoy playing on these playgrounds under the supervision of a parent, while the other parent or older siblings can shop.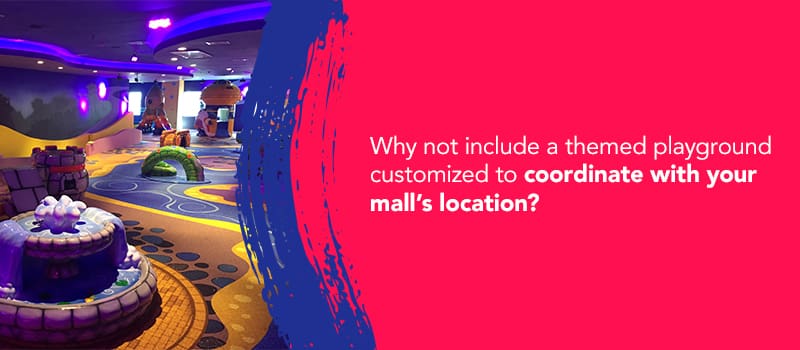 And these days, indoor playgrounds are becoming more creative and fun than ever – for example, why not include a themed playground customized to coordinate with your mall's location? A shopping mall near the mountains could do a "ski lift" themed playground for example.
2. Bowling Alleys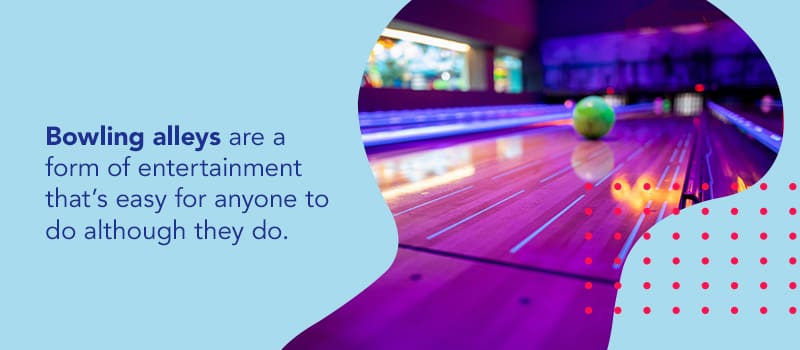 Bowling alleys are a form of entertainment that's easy for anyone to do although they do require a large dedicated space. Sometimes this might be just a casual bowling alley with only the essentials, but they can also be a little fancier. An example of one of these more upscale bowling alleys is Lucky Strike Lanes, a chain that is beginning to pop up in shopping malls in cities around the country.
The first location of this chain opened in 2003, and they've only been growing ever since. They're a bowling alley first and foremost, but they also have a bar, restaurant, live music and a friendly, social atmosphere. It's exactly the kind of exciting, entertaining center that is bound to draw in crowds, which is why it makes such a great addition to shopping malls.
Lucky Strike is a great example, but it's by no means the only one of its kind. Other companies have begun to follow their example by opening up hybrid businesses that combine bowling alleys with restaurants or other features.
3. Pizza Buffets and Other Restaurants
In the same way as the bowling alleys, these can be just simple pizza restaurants. They might be specifically pizzerias, or they might serve other food.
One such example is John's Incredible Pizza Co. This is a California chain that takes the word "pizzeria" to an entirely new level. These centers offer an all-you-can-eat buffet that includes pizza and other treats as well as assorted rides, games and other attractions.
4. Movie Theaters
Movie theaters themselves are hardly a new concept. Placing them near other stores or in malls isn't exactly new either. But it does fit well with this growing movement.
The different ways in which movie theaters are becoming more entertaining and inviting continues to follow this trend. Many movie theaters offer exciting 3-D experiences, comfortable reclining seats, as well as a more extensive array of concessions.
6. Escape Rooms
Escape rooms are a relatively new phenomenon, with the first one opening in the US in only 2012, just five years ago. Since then, they've only continued to gain popularity, riding the wave of virtual reality entertainment that capitalizes on people's desires to feel like they're "really part of the game."
In case you aren't familiar with this form of entertainment, here's how it works. A group of people are locked together in an elaborately decorated room that usually has some unifying theme – like a turn of the century mansion or an underground cave. They then have a set time limit to try to figure out the cleverly hidden clues in the room that will help them escape. The goal is to make it out of the room before the timer hits zero.
6. Mini-Golf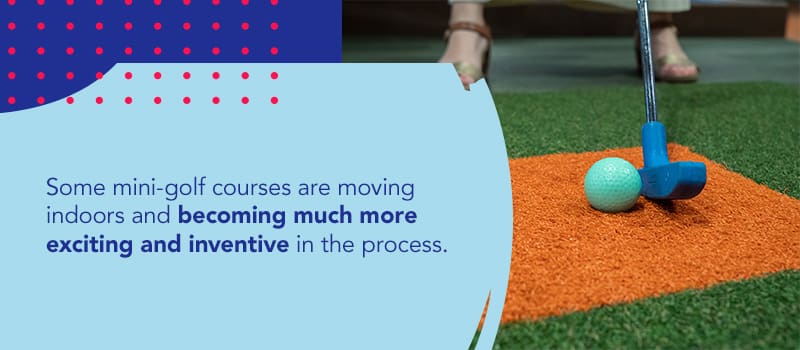 Mini-golf is something you can only do outside, right? Well, not necessarily. Some mini-golf courses are moving indoors and becoming much more exciting and inventive in the process.
One such example is Glowgolf. It takes an average game of mini-golf and dials it up a notch by making it glow in the dark. This chain and others are showing a trend of moving into malls across the country.
7. Laser Tag
Like mini-golf, this might be something that's thought of as a traditionally outdoor activity. But again, trends are turning this into a shopping center attraction. Huge indoor laser tag arenas and parks are being built and added to malls and other centers.
It's worth mentioning that in many cases, attractions like laser tag and mini-golf aren't housed in dedicated spaces. More often than not, they're combined in entertainment centers that include many of these attractions under the same roof.
8. Skydiving Simulators
Did you know there are centers that let you mimic the experience of skydiving, all while remaining in a completely safe and contained environment? They not only exist, but they're also being added to malls in the US, albeit the more upscale malls.
Fans are used to create vertical wind tunnels. This results in a smooth current of air that you can "fly" in. This safe form of skydiving is becoming known as "bodyflight" and is one of the most exciting new sports in the world.
One such company that provides these simulators is iFly. They've got locations around the country and internationally, and they even offer instructors to help you improve your flying skills.
9. Aquariums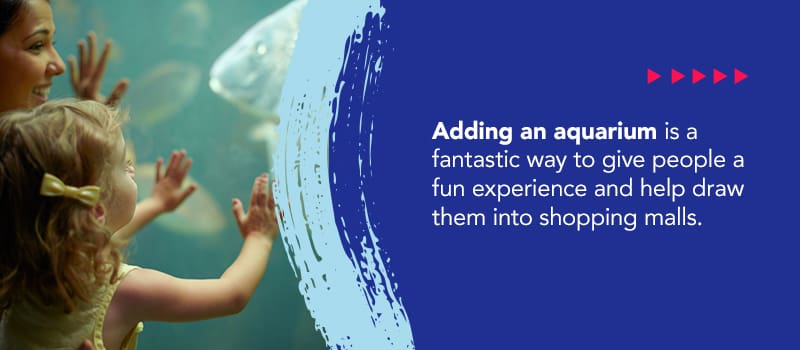 If you're looking to drive traffic to your mall, why not include a full-scale aquarium? This a bit different from most of the items on this list, but also a fantastic way to give people a fun experience and help draw them into shopping malls.
The prime example here is Seaquest Interactive Aquarium. This aquarium houses sharks and stingrays, exotic birds and more. You can swing with the stingrays, treat yourself to a fish spa, or visit any of the other attractions. And it's all housed in the space of a mall.
What Do These Shopping Center Entertainment Activities Have in Common?
You'll notice that the one thing almost all of these shopping center entertainment trends have in common is the element of interactivity. By incorporating these kinds of activities into more traditional shopping mall environments, they become more attractive to modern-day shoppers and families.
The idea is that these spaces will be less dedicated shopping centers and more of an all-inclusive fun center where you can enjoy a fun activity with your family and friends, grab a bit to eat, and enjoy some shopping as well. There are endless mall activity ideas that you can create when you partner with Soft Play.
Soft Play – The Ultimate Retail Playground Experience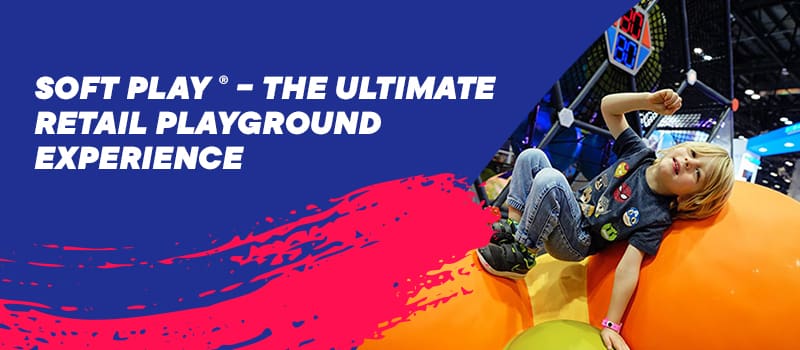 If you're interested in adding an indoor playground to your mall, there's no better option than Soft Play to help you design your dream indoor playground. We're a global leader on both a national and international level in the indoor playground equipment industry. Since 1984, we've been committed to our mission of providing safe play equipment that's fun for kids and good for business.
If you're interested in learning more about Soft Play, or about why an indoor playground would be a great choice for your mall entertainment or shopping center facility, contact us for a free consultation or reach out to a playground consultant near you.