Playgrounds have been around for well over a century, and some aspects of good playground design haven't changed — playgrounds should be safe, challenging and fun for kids. While these mainstays will always remain, the way we make playgrounds safe, challenging and fun has evolved. To create an indoor playground that's new and exciting, make sure you're aware of these trends.
Table of Contents
What Is Indoor Playground Design?
What Can You Expect From Indoor Playgrounds in the Future?
Design Trends That Will Shape the Future of Indoor Playgrounds
How Can You Prepare for These Changes
Embrace the Future of Indoor Playground Design with Soft Play
What Is Indoor Playground Design?
Indoor playground design is the planning that goes into creating an indoor recreational area. Indoor playgrounds come in many shapes and sizes. It all depends on your vision for the space and how you want it to function for kids and families. Some aspects of an indoor playground design include:
Audience: One of the first considerations that should influence your design plans is who you're designing for. One of the biggest questions is, what age group do you want to appeal to? If you want your indoor playground to appeal to a wide range of ages and abilities, you may need to create separate zones.
Activities: Designing an indoor playground involves choosing the activities you want to include. You might choose to include water play fixtures, soft sculpted foam play elements or classic playground equipment, for example. You want to include activities that will help you achieve your goals for the playground, excite your target audience and keep them engaged.
Theming: For many indoor playgrounds, theming is another consideration. Choosing a theme first can help direct the rest of your design. Theming mostly relates to aesthetics — it could be a certain color scheme that matches your branding or a fun, imaginative theme like under the sea or candy land. The right theme can really bring a playground to life.
Layout: Another consideration is the layout of the playground. This has to do with the size of the playground and the arrangement of equipment. Indoor playgrounds can be as compact or as sprawling as needed to accommodate your space.
What Can You Expect From Indoor Playgrounds in the Future?
The future of indoor playgrounds is bright. As the population grows and many people experience limited access to public green spaces, there will be an increasing need for indoor recreational facilities. Both outdoor and indoor playgrounds can play an important role in helping kids and families stay active. Indoor playgrounds are generally more versatile since you can include them in all sorts of existing spaces. From shopping malls and hotels to recreation centers and airports, indoor playgrounds can provide a place for kids to get much-needed active play.
While the need for play and playgrounds is a constant, the shape those playgrounds take may change as society evolves. As we'll see in the design trends below, advances in technology, awareness of certain issues and social changes can all influence the future of playground design.
If you're designing a playground now, it's also important to remember that design best practices continue to evolve, so it's always wise to be aware of the latest trends. What appeals to kids and meets your community's needs now and in the next five years may differ substantially from designs that meet those criteria in 10 or 20 years.
The good news is that industry leaders like Soft Play stay on top of the latest trends, so you can always trust that our products represent the best of playground design — past, present and future.
Design Trends That Will Shape the Future of Indoor Playgrounds
Let's look at seven future playground design trends that should inform new playground installations today.
1. Digital Displays
Technology has had a profound impact on so many aspects of our lives, and play is no different. The unfortunate side of this is that many children spend long hours staring at TV, phone, computer and tablet screens for entertainment. Kids in the U.S. between the ages of 8 and 12 typically get four to six hours of screen time a day, and teens can spend up to nine hours.
Too much screen time can have negative consequences for kids, but that doesn't mean the goal should be to eliminate technology from childhood. Technology is a powerful tool that, if harnessed effectively, can be an extremely positive thing. Kids are used to digital elements in nearly every aspect of their daily lives, so a completely analog play area may feel a bit outdated or dull. Playgrounds of the future are likely to include digital elements, so designers should embrace this trend now to engage digital natives more effectively.
The best technology for playgrounds combines digital elements with the classic aspects of what makes playgrounds beneficial for kids — physical activity and cognitive engagement. For example, the Reaction Wall from Soft Play allows kids to exercise their bodies and minds as they respond to buttons that light up. Graphics, lights and a digital score display all make this game exciting for kids.
Any type of interactive playground equipment can make playtime more engaging for kids, especially those who may find traditional playground equipment unexciting. Incorporating tech into your indoor playground can be a selling point that encourages families to come to your business.
2. Focus on Fitness
Incorporating more technology into indoor playgrounds should not mean incorporating less physical activity. In fact, playgrounds of the future are likely to place even more emphasis on physicality. Accommodating various ability levels will also be important, as we'll see, but all children need opportunities for exercise. Getting enough physical activity — which experts define as an hour for school-age children and more constant for preschoolers — is key to a child's health and well-being. Physical activity can help kids in several ways since it promotes healthy:
Bodyweight
Bones, muscles and joints
Mental health
Self-esteem
Cognitive functioning
Sleep patterns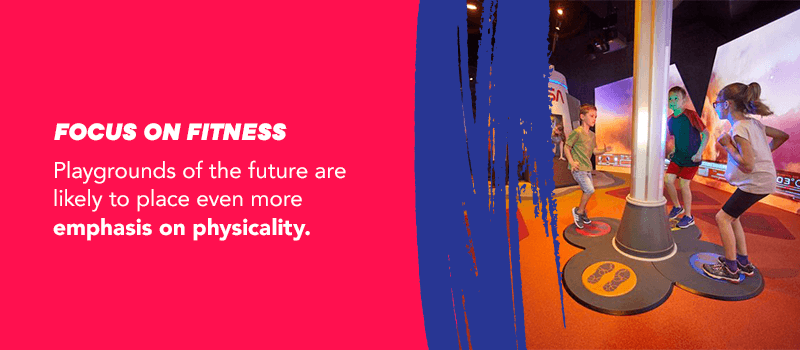 Despite all these valuable benefits, the World Health Organization reports that more than 80% of adolescents globally do not get their recommended daily hour of exercise. This crisis of inactivity is brought on in part by kids' growing preoccupation with sedentary screen time. Whatever the reasons, this problem is prompting communities to look for ways to encourage kids to be active. Playgrounds have historically been a great way to do that, and they will continue to be in the future.
However, playgrounds of the future will likely be the result of even more careful planning for how the playground can give kids a total-body workout. Interactive challenge courses, for example, can help kids get aerobic exercise, work different muscle groups and practice balance and coordination. It's also worth noting that any aspect of playground design that makes the playground more engaging for kids is likely to encourage them to keep playing longer and, therefore, get more exercise.
Some play areas will also feature fitness equipment for adults, allowing the whole family to stay active together. Indoor playgrounds can be a wonderful feature to add to health and fitness centers since they can help parents and caregivers include their kids in their fitness routine. Providing a place for kids to play can also boost membership and help adults get to the gym more often.
3. More Spacious Layouts
Since the COVID-19 pandemic began, many people have become familiar with the concept of social distancing, also called physical distancing. Physical distancing is likely a more apt name since this practice can help us enjoy social time with others while allowing some physical space between us. This space can decrease the likelihood of passing or contracting an illness from others in the space. Physical distancing is even more important in indoor spaces since ventilation is limited compared to outdoor spaces.
While we may no longer be in a global pandemic in the future, public health measures like social distancing will likely continue to be top of mind for years to come. With physical distancing in mind, future playground designs will likely feature more space between pieces of equipment or playground zones, allowing kids to play alongside each other with the recommended 6 feet of distance between them.
In some cases, playgrounds will get bigger to allow more space between pieces of equipment and distinct areas. However, not all facilities will be able to accommodate sprawling designs. Thankfully, there are plenty of ways you can promote social distancing through your playground design, or at least allow for it if that's what parents are looking for. The best indoor playground equipment should give you the option to customize the size and layout of the playground to make it work for your space.
4. Extra Hygiene Measures
Another result of the pandemic is a heightened awareness of germs and hygiene. This health concern is already affecting indoor playgrounds and will continue to do so in the future.
One measure you've likely already seen is a hand sanitizing station. This addition to the playground can go a long way toward minimizing the spread of germs. Hand washing is an even more effective way to remove germs from hands and also works to remove dirt and grime. If you have a restroom near the playground, you can post a sign encouraging families to wash their hands before using the equipment.
A hand sanitizing station is a more convenient alternative that can be extremely helpful in the absence of nearby restrooms. Even when there are restrooms nearby, some kids may skip washing their hands but would take the few seconds to use hand sanitizer if it's readily available. Hand sanitizer stations will remain commonplace in future indoor playgrounds, and some parents may not carry hand sanitizer with them if they expect it to be available on-site.
Another way that playgrounds will start to become even more hygienic is through the use of antimicrobial coatings. The first antimicrobial coating created for the recreation industry is known as PlayArmor. PlayArmor is scientifically proven to safely and effectively eliminate pathogens that contact the coating. It's completely invisible and can provide a barrier of protection for playground equipment. This innovative solution kills germs mechanically rather than chemically, meaning it uses an electric charge to rupture pathogen cells physically.
As parents and business owners become more familiar with antimicrobial coatings, they'll begin looking for this health and safety measure in indoor playgrounds.
5. Inclusive Play Environments
Future playground trends aren't necessarily fads. In many cases, these trends are expected to last indefinitely or continue to progress in the same direction. That's certainly the case when it comes to inclusive design. Playground equipment manufacturers and designers are becoming increasingly concerned with making playgrounds welcoming to children of all abilities.
Since the Americans with Disabilities Act (ADA) was signed into law in 1990, accessibility has been a priority for public spaces. However, labeling a playground as accessible may simply mean it includes smooth pathways that are wide enough for wheelchairs. While this is a great way to help kids with mobility differences access the playground, it isn't enough to make the playground truly inclusive.
Inclusive design takes children with other differences into account, as well. Whether a child has autism spectrum disorder (ASD), Down syndrome, learning disabilities or any other condition that impacts their needs and abilities, the playground should accommodate those needs and help kids have fun and learn on their terms.
For example, a playground designed with ASD in mind is likely to include cozy spaces like tunnels that allow kids to isolate themselves momentarily if they become overwhelmed by the sensory input of the playground. Design measures like these can make a world of difference for some children, helping all kids feel welcomed and included.
6. Unique Attractions
Some popular playground design trends come back to a common goal — to make your playground stand out from the rest. Rather than a one-size-fits-all approach to design, new playgrounds will feature exciting designs that make them uniquely appealing to families.
The most extreme example of this trend is found in destination playgrounds. Indoor playgrounds are automatically a bit of a novelty, but in some cases, this novelty is simply a perk that your existing customers enjoy. Destination playgrounds take this to the next level by becoming an attraction that brings in new customers. Typically, destination playgrounds do this by including larger-than-life indoor playground equipment.
Theming is another way you can make your playground stand out. Themed playgrounds are often inherently more interesting to kids and can make your playground feel unique rather than run-of-the-mill. Themed playgrounds can also encourage kids to exercise their creativity as they engage in more imaginative play. For example, a kid might imagine they're conducting a train or rescuing a dragon from a medieval castle. Kids can come up with all sorts of imaginary scenarios, but the right backdrop can encourage this sort of play.
Many businesses choose themes that tie back to their brand. For example, an airport doesn't have to settle for something generic — they can have an airport-themed playground that gets kids excited about their flight and may even have some dreaming of future careers as pilots or flight attendants. Whatever the theme, the idea is to make your playground unique, making it a more exciting place for kids and a more attractive draw for families.
7. Adventurous Play
Safety deserves its place on the top of the priority list for many playground equipment manufacturers and designers, as well as for parents. However, because of the focus on safety, the industry has seen some playgrounds become a bit too sterile. In other words, they remove every source of risk until the playground no longer feels fun. This makes playgrounds less appealing to kids, which can add to the issue of inactivity among today's youth.
Fortunately, designers are beginning to reintroduce a bit more adventure into playgrounds to increase the perceived risk for kids while still promoting safety. This can be especially appealing to older kids. Adventure playgrounds are aptly named since they feel genuinely adventurous to kids. Many adventure playgrounds are outdoor, but indoor playgrounds can be adventurous too. For example, you can install an obstacle course or rope course inside, especially if you have high ceilings.
Adventure playgrounds invite kids to challenge themselves in ways that go beyond typical playground equipment, which can make for a more thrilling play experience. According to experts, risky play can help kids develop important life skills like risk management and resilience. When kids accomplish challenging things, like making their way across a rope course, they're also sure to feel a sense of pride that enhances their self-confidence.
Adventurous playground equipment will get kids excited, and parents will appreciate that these playgrounds are still designed with safety in mind. Playgrounds of the future should feel the opposite of dull.

How Can You Prepare for These Changes?
If you have an existing playground, look for ways to incorporate these trends into the playground. Even subtle changes or additional equipment can make a big difference. If you're creating a new playground, then make sure you:
Do some market research: Start by understanding the clientele you're trying to appeal to. What age group is likely to use your playground? How long are they likely to be there? What sorts of activities do they enjoy? This information can help you plan a playground that's ideal for your target audience specifically.
Keep your goals and parameters at the forefront: While it's helpful to factor in modern design trends, it's also important not to let these considerations crowd out what's most important. Start by figuring out what your goals are for your playground. Consider what you hope to achieve with this installation and what sorts of parameters you're working within. Keep this big picture vision at the forefront as you design your playground.
Stay on top of trends: By definition, trends change. Therefore, it's always smart to do some research occasionally and pay attention to what you see in other playgrounds so you're aware of what new trends are emerging. This is especially true for more micro trends as opposed to the macro trends we've focused on in this article. These macro trends are likely to shape playground design for years to come.
Embrace the Future of Indoor Playground Design With Soft Play
At Soft Play, we lead the way in industry best practices and stay on top of the latest trends to bring you indoor playground equipment that kids and families love. We can leverage our expertise to help you with your entire project, from design to installation. Our free design consultation can help you determine your vision for your playground project so you can choose the right equipment for you. Once we understand that vision, we can create a custom playground design along with a quote.
To learn more about Soft Play products, browse through our products online. When you're ready, request a quote or contact us if you have any questions. It's time to capture your vision and embrace the future of playground design with a new indoor playground from Soft Play.